"Apple Pop-Up Store" at Occupy Wall Street
The Daily Show documentary about class division within New York City Zuccotti Park reveals a hidden Apple Store.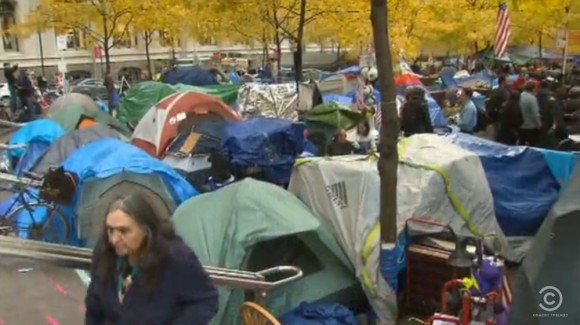 Video: Occupy Wall Street Has "Apple Pop-Up Store"
In this Daily Show with Jon Stewart video, Apple pop-up store makes an appearance around 2 minutes.
Hipsters vs. Hippies?
Samantha Bee reports on possible hipster vs. hippie class division within the Occupy Wall Street movement:
"Would you share your iPad 2 with one of those shiftless hobos down [in the other section of the park]? No, but…"
Well, OP sees no iPad or iPhone Garageband at the drum circle…
Flash video, view on iOS with SkyFire Flash Browser. Download [iPad | iPhone + iPod touch] and use "video" button on lower left of the app.

Related Posts