Apple Bought 3D Mapping Company C3 Technologies
Technology behind Apple's new 3D photorealistic C3 mapping service. No one dimension facade here. Watch these video demos to see the future of GPS.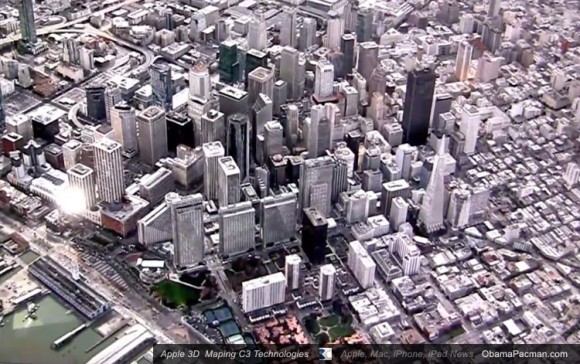 iPad Demo: C3 Technologies Photorealistic 3D Mapping

2 minute video
C3 New York City 3D Mapping Demo

1 minute video
In August, mapping company C3 Technologies was bought by a mystery buyer. Now the buyer is confirmed to be Apple, according to 9to5mac:
C3 Technologies CEO Mattias Astrom, C3 Technologies CFO Kjell Cederstrand, and lead C3 Technologies Product Manager Ludvig Emgard are now working within Apple's iOS division.
C3 3D mapping brings military missile technology to market. It will be perfect for Apple's thermonuclear war on Android, especially if this leaked Apple Cupertino Headquarters: Secret Design Plan turned out to be accurate.
C3 Technologies: How to Map in 3D
C3 Technologies was partly owned by Saab AB, a Swedish aerospace and defense company. Here's how Apple's new 3D mapping technology works:

3 minute video
Mapping time described from the 2010 December video:
Airplane flies at 500M: resolution of 10 cm (4 inches)
In 1 hour, the airplane can map 100 square kilometer
3D map generation = 5x flight time (shorter if you crunch it on a Mac supercomputer)
ObamaPacman notes: San Francisco is 46.9 square miles (121 square km). So basically the city was mapped in 10cm resolution in 75 minutes. In comparison to C3, Google Street View cars are caveman slow.
C3: Las Vegas, San Francisco Maps
Here's another video of C3. It turned out that 100 cities worldwide are already mapped:
Note that the Samsung's Android Galaxy tab ran out of battery, while the Apple iPad keeps on working.
So, what does Apple's purchase of C3 Technologies mean? Siri was bought by Apple in 2010, and improved then released by Apple in one year. So if C3 is on the same fast track, Apple might release this competitor to Google Maps next year with iOS 6. By not using the restrictive Google Maps, Apple would be open to release its own navigation system based on C3.

Related Posts