Apple Launched iTunes Match: Music Library Cloud Storage
$25 per year Apple music cloud service launched today, for those who didn't buy music through iTunes.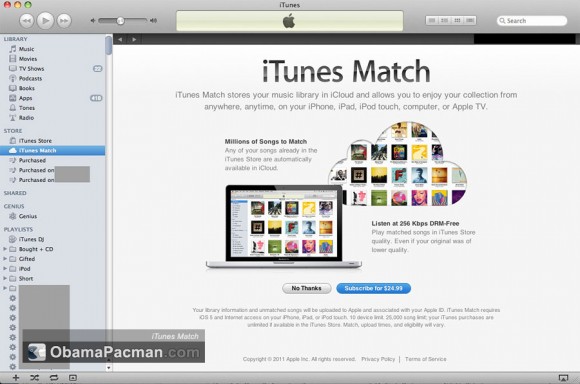 If you purchased music only through iTunes, Apple already allowed you to re-download your media. But what if you ripped the music from your own CD? You need iTunes match, released today. Requires iTunes 10.5.1, also released today:
With iTunes Match, even songs you've imported from CDs can be stored in iCloud. And you can play them on any iPhone, iPad, iPod touch, Mac, or PC — whenever you want and wherever you are, without syncing.

Here's how it works: iTunes determines which songs in your collection are available in the iTunes Store. Any music with a match is automatically added to iCloud for you to listen to anytime, on any device. Since there are more than 20 million songs in the iTunes Store, chances are, your music is already in iCloud. And for the few songs that aren't, iTunes has to upload only what it can't match. Which is much faster than starting from scratch. Once your music is in iCloud, you can stream and store it to any of your devices. Even better, all the music iTunes matches plays back from iCloud at 256-Kbps AAC DRM-free quality — even if your original copy was of lower quality.
How to use sign up to iTunes Match:
Download latest iTunes
"iTunes Match" will appear under "iTunes Store" on the left pane. Sign up and Apple will scan your iTunes library. (If you say "No Thanks" it'll go away).
It's not iTunes Wi-Fi sync, which is useful for other purposes.
Once you sign up, you should see these iTunes Match icons. You might have to go to your music library, View Options (Command+J) and turn on iTunes match column.

Related Posts