Apple Replacing iPod nano (1st generation)
Apple recommends that you stop using your first generation iPod nano and order a free replacement.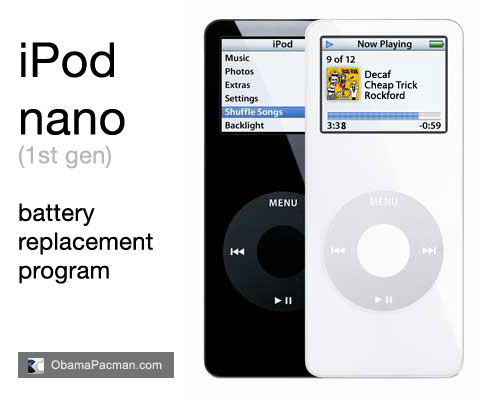 iPod nano battery replacement program
Apple has determined that, in very rare cases, the battery in the iPod nano (1st generation) may overheat and pose a safety risk. Affected iPod nanos were sold between September 2005 and December 2006.

This issue has been traced to a single battery supplier that produced batteries with a manufacturing defect. While the possibility of an incident is rare, the likelihood increases as the battery ages.
How to identify iPod nano (1st gen):
It has a black or white plastic front and a silver metal back – later iPod nano models have a metal front and back. See images on this web page.
Check eligibility and order replacement here. Apple will send you a box to mail back your one for the new one. Defectives device replacement is expected within 6 weeks, and comes with 90-day warranty.

Related Posts