Adobe Flash Openness "Freedom Fighters", Where Are You Now?
Adobe hypocrisy, documented.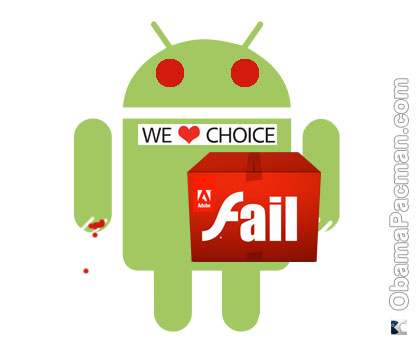 Ken Segall's article Adobe: woe of the freedom fighter:
Back when Apple banned Flash from iOS, I took issue with Adobe over the "theme" they chose to rally the people to their side. For obvious reasons of self-preservation, they wrapped themselves in the flag of freedom. They tried to win support as the company who fights for the rights of developers. They were there to defend us all.

I'm sorry, but it just makes me ill when a company hijacks a basic human right to preserve their own cash cow.

As Adobe has now confirmed, this was a disposable use of a sacred concept. If you read their latest words, there is no lament that we will soon live in a totalitarian state controlled by the evil Apple. Adobe is no longer protecting our cherished values. Now it's just about HTML5 being "the best solution for creating and deploying content in the browser across mobile platforms."
Of course, we know that his week Adobe abandons Android and drops Flash for mobiles. So, where are the Flash douchbags, and why aren't they defending freedom of Flash now?
PS. Steve Jobs was right, and in reality, competitors lost by investing in a dead technology.

Related Posts