Adobe Abandons Android, Kills Flash for Mobile, Consumer Wins.
Adobe finally abandoned development of Flash Plugin for mobiles. Steve Jobs, Apple customers and developers embraced this future since 2007.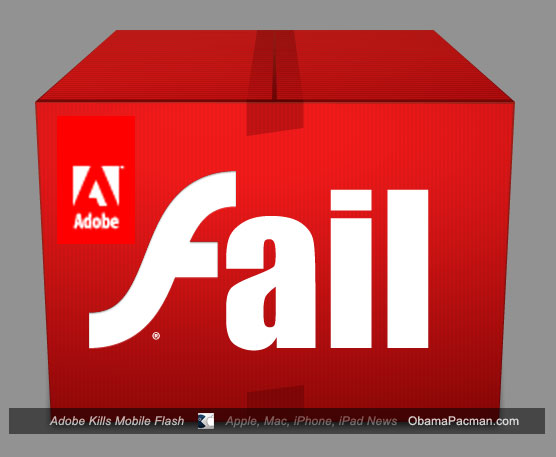 Over 4 years after the introduction of the original iPhone, and after Apple haters / competitors invested so much in a dead technology – Flash for mobiles is being abandoned.
ZDNET describes future of mobile Flash:
"Adobe ceases development on mobile browser Flash, refocuses efforts on HTML5″.
Apple didn't win. Everybody won. Flash hasn't been superseded in mobile by any sort of Apple technology. It's been superseded by truly open web technologies. Dumping Flash will make Android better, it will make BlackBerrys better, it will make the entire web better. iOS users have been benefiting from this ever since day one, in June 2007.
ObamaPacman: Great to see it after Apple haters / competitors invested so much in a dead technology, and then abandoned by the "open" Adobe. Looks like Steve Jobs is right with "War on Flash".
Here's the previous Adobe PR on Flash:
Flash Player performs as well as, if not better than, comparable multimedia technologies.
Adobe is said to be moving on to HTML5 and Adobe Air application porting to mobile platforms, but it's doing a sloppy job with Adobe Air so far. And of course, the forever beta Adobe Flash for desktops.
Update: Adobe confirmed that instead of "richest [Flash] contents" for mobile, Adobe will invest in HTML5 and Adobe Air Flash wrapper / converter.

Related Posts