7″ Kindle Fire Tablet Reviews (Not iPad Killer)
Tim Cook is right, Amazon Kindle Fire is no iPad killer.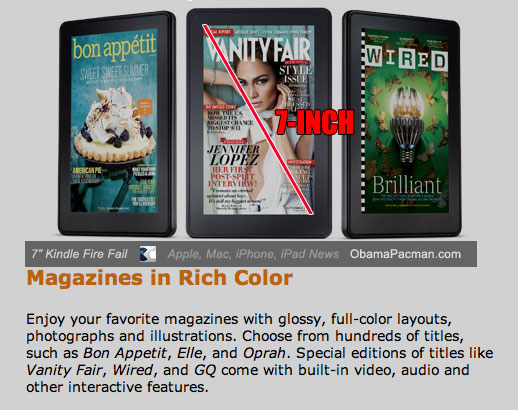 The 7″ Amazon Kindle Fire tablet [$199
] is releasing on November 15. Here are the reviews.
David Pogue, the New York Times:
"It's chunky-thick… Most problematic, though, the Fire does not have anything like the polish or the speed of an iPad. You feel that $200 price tag with every swipe of your finger. Animations are sluggish and jerky – even the page turns that you'd thinkwould be the pride of the Kindle team. Tabs sometimes don't register. There are no progress or "wait" indicators, so you frequently don't know if the machine has even registered your touch commands.
the iPad 2 [etc.] had much faster load times on most sites I tested side-by-side.

Additionally, much like the standard Gingerbread browser, the Fire suffers from laggy scrolling and imprecise, clunky pinch-to-zoom behavior. Next to the iOS browser or Honeycomb tablets, it just seems less capable…

Many of the applications offered feel like glorified phone apps.

Gizmodo describes the all so common Android lag:
Unfortunately, the Fire is probably cursed with the same blood as every other Android device that can't manage to run a mile without tripping over its laces.
Total internal storage is only 8GB, and just 6GB of that is available for storing downloaded content…

Besides poor load times, the Fire's browser lurches in fits and starts when swiping through already loaded web pages. And sometimes the browser doesn't react to touch gestures at all, requiring that oh-so-annoying second tap or swipe instead. Pinching in and out of magnified views is also a test of one's loyalty – this action looks like choppy stop-motion video on the Fire, whereas on the iPad 2, itís fluid and seamless.
CNET:
Kindle's multitouch doesn't register more than two fingers at a time. I didn't notice the deficiency until I booted up the game Fruit Ninja and tried clawing at flying fruit with three fingers.
You have to be annoyingly precise to get your chosen thing to launch.
ObamaPacman:
Basically, the small Kindle Fire display is not optimized for web content or magazine content (ever seen a 7″ magazine?). The small 6GB usable storage prevents significant amount of media content or games to be used on the go (maybe 1 or 2 HD movies). The device is limited to Amazon Appstore, which contain only few of the Android market titles. And some of the advertised services require recurrent subscription fees ($80 per year Amazon Prime).
And the Amazon Kinde is thicker than the failed BlackBerry Playbook.

Related Posts