51″ Android Tablet: HTC Jetstream 4G
iPad is so doomed. Apple should just give up the market to this new Android Honeycomb tablet. Not.
HTC Jetstream Android Honeycomb Tablet Review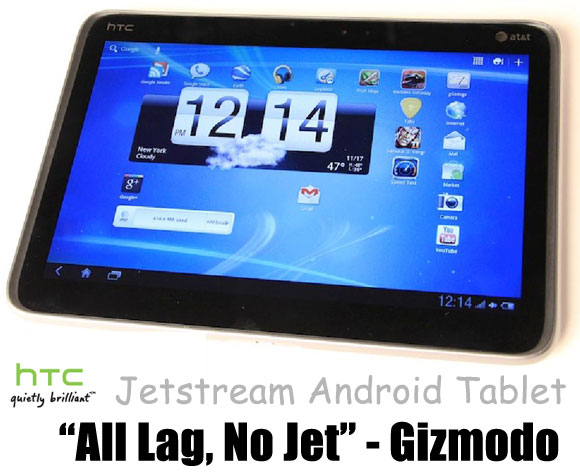 HTC Jetstream Android tablet specs: 10″ display, 1.5-GHz Dual-core Snapdragon processor, 1GB of RAM, Android 3.1, and HTC Sense customization. The specs sound great on paper, but how does it perform in reality?
Brent Rose from Gizmodo describes frustrations of using the new Android tablet in HTC Jetstream Lightning Review: All Lag, No Jet:
Totally aggravating. More lag and stutter than porn creepin' through a 56K modem. Sure, the thing'll run an HD game smoothly, but flipping between homescreens or open applications is too hard? Pfft. (Sennnnnse!)
What about the "fast" 4G connection? Except for rare select locations, it works at 3G speed.
And the best thing about the sluggish Android tablet? Price of $700 requires two-year contract. Note to HTC, the same strategy didn't do so well for Motorola Xoom and some of the 32 failed tablets. In contrast, the Apple iPad and iPad 2 3G are sold with no contract requirements.
51″ Android Tablet
ObamaPacman discovered that HTC listed Jetstream tablet as 51″ (fifty one inch) deep: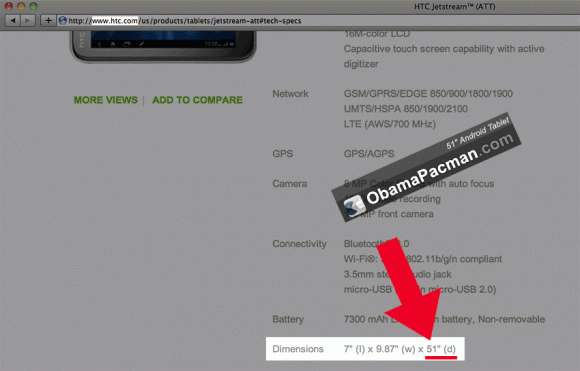 HTC Site: http://www.htc.com/us/products/tablets/jetstream-att#tech-specs
Attention to details, HTC has it. What a difference a decimal point can make. No wonder HTC chairwoman shops at Apple Store.

Related Posts