32 Failed Android + Microsoft Tablet PC Competitors vs. 2010 iPad
Apple iPad is doomed With so many tablet alternatives. ;)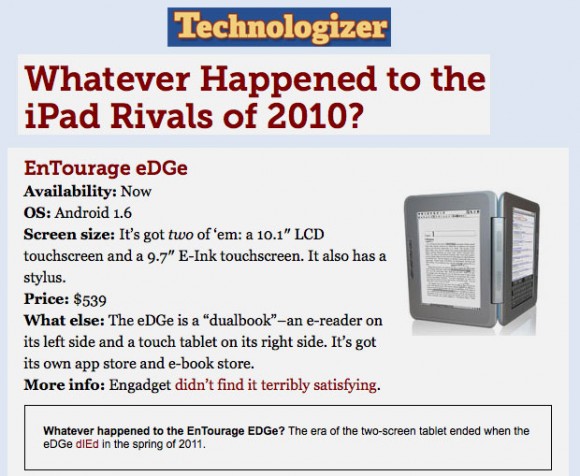 32 Failed 2010 Tablets
Harry McCracken wrote about Whatever Happened to the iPad Rivals of 2010? It examines 32 failed tablet products that think it has a shot against the Apple iPad:
Archos 5 (Android 1.6)
Archos 7 (Android 1.5)
Archos 9 (Windows 7 Starter Edition)
Asus EeePad EP101TC (didn't ship, but maybe the "Transformer")
Asus EeePC EP121
Augen $150 Gentouch78 at k-mart (company site is down for months_
Best Buy Rocketfish Tablet
Cisco Cius: the June 29, 2010 announced product still has no price or release date.
Dell Streak 5″, Discontinued
Dell Windows Slate
EnTourage eDGe
ExoPC Slate
Fujitsu Windows Slate
Fusion Garage JooJoo
HP Windows Slate
HP TouchPad (WebOS "PalmPad")
Lenovo "LePad"
MSI WindPad 100 Windows
MSI WindPad 110 Android
Marvell "Moby" Tablet
Motorola-Verizon TV tablet
Neofonie WeTab
Notion Ink Adam
OLPC XO 3.0
Onkyo Windows Slate
Panasonic Windows Slate
RIM PlayBook (ìBlackPadî)
Samsung Windows Slate (don't forget the Samsung Galaxy Tab train wreck)
Sony Windows Slate
"The $35 Indian Tablet" (vaporware, still "available next month")
Toshiba Libretto W100
Toshiba Windows Slate
Basically, in August 2010, many companies saw Apple iPad's success and tried to copy it. The iPad wannabes range from 4.8″ to 11.6″ with Android and Windows.
Over one and a half years later, even after Apple released the second generation iPad 2, some iPad knockoff products are still vaporware, while others are discontinued with product producers going bankrupt. None are successful against the Apple iPad. Read more with the link listed above.
Kindle Fire, you are next.

Related Posts