130 Million+ Android & BlackBerry Phones sold with Carrier IQ Key-Logger Rootkit [video]
CarrierIQ spyware pre-installed on Android phones captures private data without permission.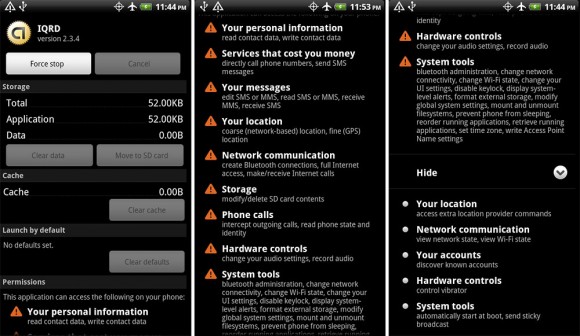 Video: Android Phones with IQRD Spyware Key Logger
Carrier IQ software secretly installed on millions of mobile phones reports most everything a user does on a phone.
Trevor Eckhart's video shows the software by Mountain View, CA based Carrier IQ records just about everything on his HTC Android phone:
Encrypted HTTPs sessions
Text message
Every keystroke
Button presses
From 6:00 to 8:00 of the video Eckhart demonstrated user cannot stop the spyware from running. From 9:02 to the end, he showed the Android keylogger in action.
"Every button you press in the dialer before you call," he says on the video, "it already gets sent off to the IQ application."
It has control over "Services that cost you money." It even tracks user's every move on WiFi. Eckhart compares the IQRD spying software to rootkit: it is difficult to find, and cannot be turned off.
130+ Million Phones with Carrier IQ Spyware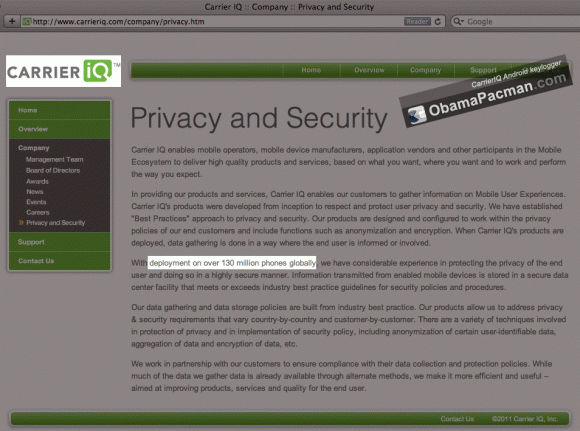 ObamaPacman found that CarrierIQ boasts deployment of its spyware on over 130 million phones globally. That's a lot of Android phones being spied on.
FTC vs. Deceptive Privacy Practices
Previously, Carrier IQ threatened legal action against Trevor Eckhart. But after EFF got on board, CarrierIQ withdraw lawsuit threat with this announcement that its spyware:
Does not record your keystrokes.
Does not provide tracking tools.
Does not inspect or report on the content of your communications, such as the content of emails and SMSs.
But the video shows otherwise. Recently, Google's deceptive privacy practices result in 20 years of monitoring from FTC (so did Facebook), so we expect FTC to hit Carrier IQ soon.
This is another example why enterprise is choosing Apple over Android and other phones. Apple does not allow these type of software on App Store.

Related Posts