Watch Bloomberg TV Business & Financial News on iPad
iPad app to watch live business TV news, no subscription required.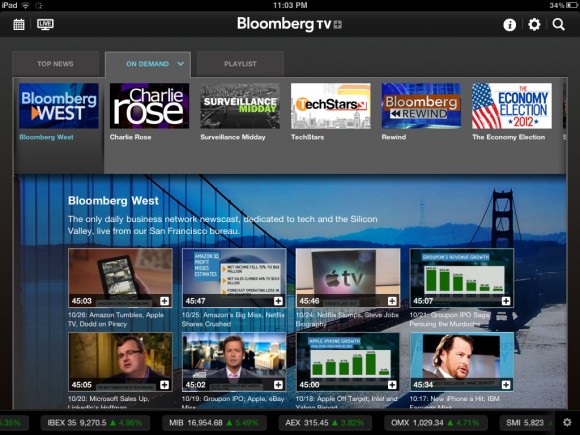 Download Bloomberg TV+ [App Store] for iPad. It's a free app that doesn't require subscription of any kind. Version 1.0 just released on October 27, 2011. Features include:
Watch live TV 24 hours a day
Watch important stories from last 24 hours
Download videos for offline viewing
Shows on demand
Works on all orientations
Airplay! Beam videos to your big screen TV wirelessly if you got Apple TV
Shows available on demand include:
Bloomberg West
Charlie Rose
Surveillance Midday with Tom Keene
Tech Stars
Bloomberg Rewind
Sportfolio
Innovators
Bloomberg Enterprise
Bloomberg Risk Takers
Bloomberg Game Changers: Virgin empire founder Richard Branson, Harry Potter author J.K. Rowling, Craigslist founder Craig Newmark, etc. But no Steve Jobs episode from 2010
Great must have iPad app. Thanks Bloomberg. Currently no iPhone version.
Perhaps Apple should make a Newsstand styled TV shelve for these TV channels. OP currently keeps them in a folder but that folder is growing.

Related Posts