Watch New iPhone 4S Keynote Streaming Video [+ Download]
Watch stream or download MP4 podcast of Apple Tim Cook iPhone 4 announcement media event.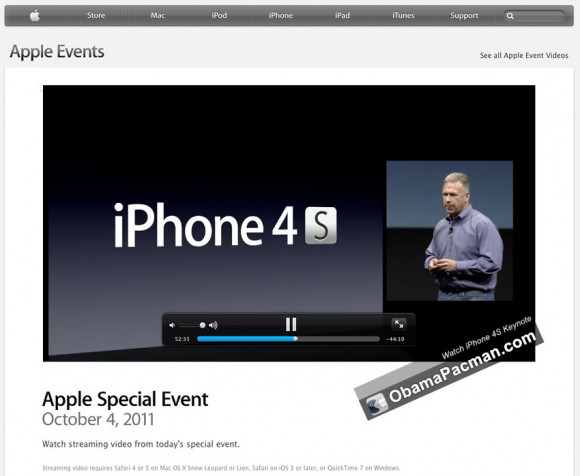 ObamaPacman has put together a timeline of the 97 minutes long Apple October 4 "Let's Talk iPhone" event:
2:20 Apple Retail Stores: Hong Kong
5:30 Hong Kong Apple Store video
Apple stats, four main products:

6:30 Mac vs. PC stats, MacBook Air, etc.
10:30 Music: iPod + iTunes store
13:25 iPhone
16:05 iPad

20:45 iOS, Cards app
25:10 iOS 5, top 10 new features

33:55 iCloud

39:10 Find my Friends
43:55 iCloud promo video

45:35 iPod nano, with 16 new clocks for iPod nano watch
48:55 iPod touch
52:00 iPhone 4S

54:00 Demo, iOS exclusive Infinite Blade 2 by Epic Games (available December 1)
68:38 Video quality demo of iPhone 4S (WOW!)
71:20 Siri introduction
73:15 Voice recognition demo of Siri (still beta software)
85:13 Dictation
87:25 iPhone 4S promo video

94:41 Tim Cook reviews October 4 Apple Keynote
Must Watch Portions of iPhone 4S Keynote
Don't have time to watch the whole thing? ObamaPacman recommends at least watching:
25:10 iOS 5, top 10 new features
73:15 Demo of Siri, Voice recognition iPhone 4 assistant still in beta
Update: added keynote download link and better timeline. Also, Apple now has an iPhone accidental damage protection plan.

Related Posts