USPTO Grants Apple iPhone Interactive Slide to Unlock Patent (Android Infringes)
Filed December 23, 2005 and approved this week by United States Patent & Trademark Office (USPTO).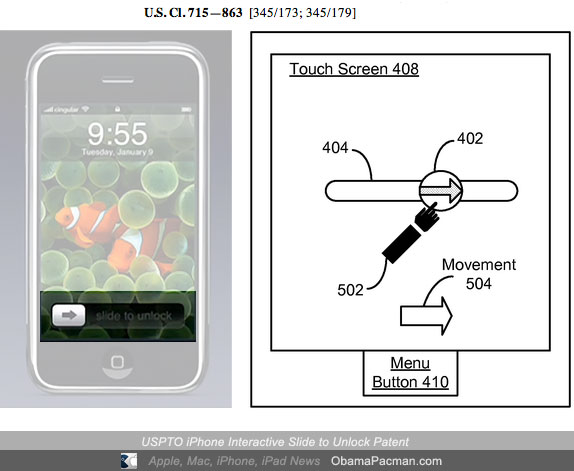 Apple "Interactive" Slide to Unlock Patent
On October 25, 2011, Apple's patent "Unlocking a device by performing gestures on an unlock image", patent 7657849 and its continuation 8046721 are granted by the USPTO. One of the patent claims:
A method of controlling an electronic device with a touch-sensitive display, comprising: detecting contact with the touch-sensitive display while the device is in a user-interface lock state; moving an unlock image along a predefined displayed path on the touch-sensitive display in accordance with the contact, wherein the unlock image is a graphical, interactive user-interface object with which a user interacts in order to unlock the device; transitioning the device to a user-interface unlock state if the detected contact corresponds to a predefined gesture; and maintaining the device in the user-interface lock state if the detected contact does not correspond to the predefined gesture.
Android Infringement of Apple Patent
Android thought it could copy Apple's slide to unlock by changing it slightly, but the patent 7657849 covered both unlock regions and paths:
2. "movement along any desired path"
3. "movement along a predefined channel from the first predefined location to the predefined unlock region"
So what does the USPTO patent mean? Basically, just about all Android devices (such as curved unlock bar) are infringing on this Apple US patent.
Steve Jobs Introducing Slide to Unlock
Here's Steve Jobs introducing slide to unlock on iPhone on January 9, 2007:
Steve Jobs described the iPhone intellectual property at 7:35:
And boy, have we patented it.
OP: To see the patent approval, go the USPTO Granted Patents catalog for this week, and search for 8046721. (The patft.uspto.gov search result is showing a blank "Issue Date" as of now).
But what about prior art? OP will write an article about that soon.
[via 9to5mac]

Related Posts