Two iPads + Angry Birds Toy Heading to International Space Station
Hopefully there aren't pigs on the ISS. Or this won't end well.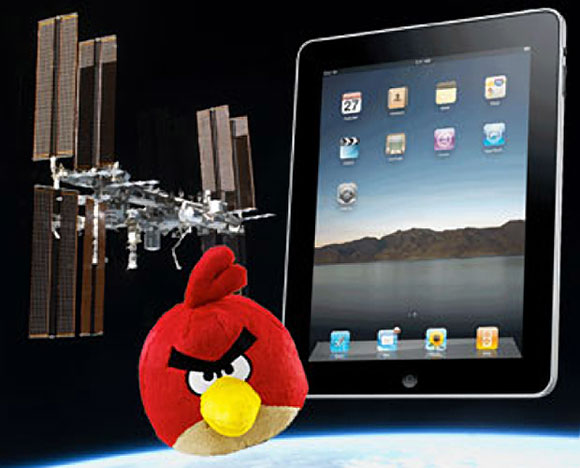 collectSPACE reports Russians are launching iPads and Angry Bird plush toy into space:
Two Apple iPads are packed on board the next unmanned resupply vehicle to fly to the space station, set for launch later this month. And a stuffed toy doll of the red bird from Rovio Mobile's "Angry Birds" puzzle game will accompany the next three crew members to depart Earth for the ISS next month.

The iPads will augment Apple iPod music players already used by the crew on the station, while the red Angry Bird toy will help by signaling to the launching cosmonauts and NASA astronaut that they have made it to space when it starts to float.
The two iPads will be used for "entertainment" for now:
"The Russians are flying two iPads on the next Progress. They're going to be used for entertainment purposes only," NASA spokesman Kelly Humphries told collectSPACE on Tuesday (Oct. 25).
Russian cosmonaut Anton Shkaplerov said the Red angry birds was picked by his daughter, and that the toy will be used as a "zero-g indicator".
Apple iPod and iPhone both seen space missions. iPod was used on ISS since 2007 and in 2011 iPhone was on final space shuttle mission.
Unofficially, iPhone 4 and also double iPhone 4S made it to space.
ObamaPacman: although the story seems out of this world (like Scoopertino), collectSPACE is a legit site that's been publishing space event news since 1999. Thus, despite lack of link to any NASA or Russian space agency links, it's probably not a hoax.

Related Posts