Try the Secret iOS 5 Nuance Speech-to-Text Feature, on iOS 4
Apple is testing Nuance speech-to-text voice control. The iOS 5 version is not available outside of Apple, but you can try the technology with this app.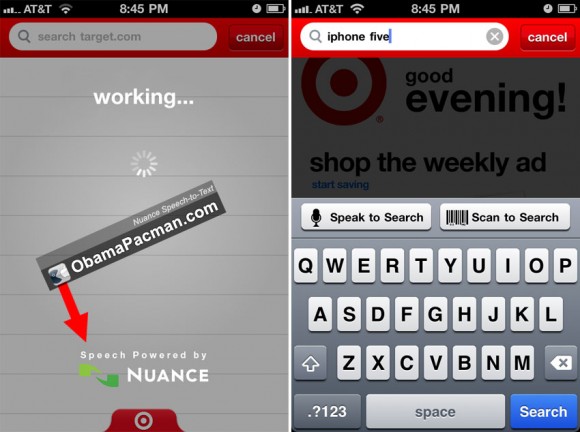 There is a hidden GUI in iOS 5 beta to Nuance speech to text, but it turned out that official Target app for iOS [iPhone or iPad] already has the feature integrated with its keyboard. The Target app feature is not a leaked feature of iOS 5 developer preview, but rather made as a partnership between Nuance and Target.
Click microphone / speak button, talk, and it'll use Nuance to translate to text. Actually works pretty well!
iPhone Voice Control: 2011 iOS 5 vs. 2009 iOS 3
The rumored iOS 5 version is supposed to have "Assistant" feature with whole phone integration, with ability to control the iPhone with voice.
iPhone already has a similar feature called Voice Control, released on June 19, 2009 with iPhone 3GS and iOS 3. However it doesn't work that great.
With Nuance / Siri, and years of additional Apple R&D, tomorrow's Apple iPhone 5 media event would get very interesting. For example, the iOS 5 version is rumored to work with the sensors so when you hold the iPhone to the ear, it'll start recognizing your voice.
Of course, there is no guarantee that iOS 5 will contain this feature, but it would be very cool if it does.
[The Next Web via Cult of Mac]

Related Posts