Steve Jobs Promised Thermonuclear War on Android IP Theft
Excerpt from the official Steve Jobs biography by Walter Isaacson.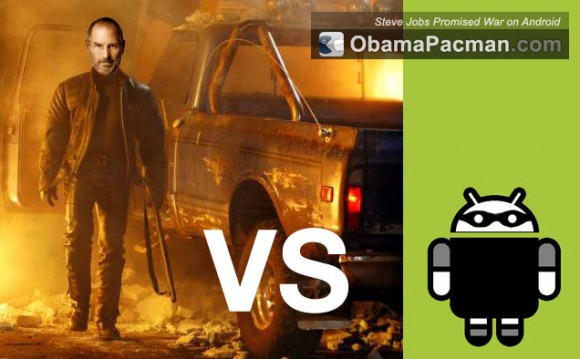 AP reports Steve Jobs' thoughts on Android's iPhone copying effort:
Isaacson wrote that Jobs was livid in January 2010 when HTC introduced an Android phone that boasted many of the popular features of the iPhone. Apple sued, and Jobs told Isaacson in an expletive-laced rant that Google's actions amounted to "grand theft."

"I will spend my last dying breath if I need to, and I will spend every penny of Apple's $40 billion in the bank, to right this wrong," Jobs said. "I'm going to destroy Android, because it's a stolen product. I'm willing to go thermonuclear war on this."
Eric Schmidt, former CEO of Google, sat on the board of Apple from 2006 to 2009 and might have had inside information on Apple's iPhone development while directing Google to make a copycat product. (Android originally copied the BlackBerry).
Steve Jobs told Schmidt to do the right thing:
"I don't want your money. If you offer me $5 billion, I won't want it. I've got plenty of money. I want you to stop using our ideas in Android, that's all I want." The meeting, Isaacson wrote, resolved nothing.
Although Android continues to copy Apple products, Apple is winning against major Android manufacturer Samsung with injunctions in Germany and Australia. Oracle is also seeking an injunction against Android's unauthorized used of modified Java, in which Google engineer admits willful infringement in an email.
The AP article also has info on Steve Jobs' thought on religion, Jony Ive, Hewlett and Packard, and Jobs' legacy at Apple.
Order the official Steve Jobs biography, it'll be available on Monday Oct 24.

Related Posts