Samsung Galaxy Continues to Copy Apple
Samsung's 2011 Galaxy Player 50 rips off Apple Maps app from 2007 iPhone / iPod touch.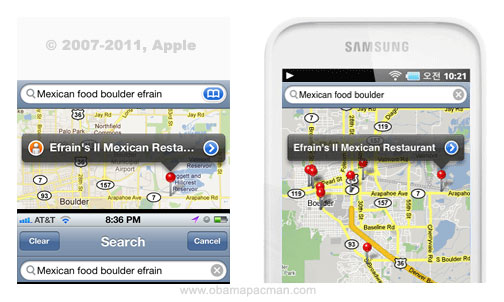 Check out Samsung's blatant 2011 knockoff at: http://www.samsung.com/galaxyplayer50/ (removed)
Direct image URL: http://www.samsung.com/galaxyplayer50/img/img_gms.gif (removed)
Official Samsung website for Galaxy Player 50 has a slightly modified version of the Apple iOS Maps app. Apparently, Samsung doesn't know (or care) that although the Apple's Maps app uses Google maps data, the user interface is designed and copyrighted by Apple since 2007.
No wonder Apple wins injunction in Australia and Germany. Fandroid drones, what excuses do you have now? Still think Samsung using Apple's App Store and Safari icons is an "accident"?
UPDATE: DF points out that Samsung stole its Galaxy product image directly from a 2008 screenshot of iPhone Maps app.
[Discovered by @raruler via Daring Fireball] ObamaPacman made a page freeze.

Related Posts