Samsung Beats iPhone Sales Last Quarter? [Not Exactly]
WSJ reports an unofficial source said Samsung shipped 20 million smartphones last quarter, claiming it's more than what Apple shipped.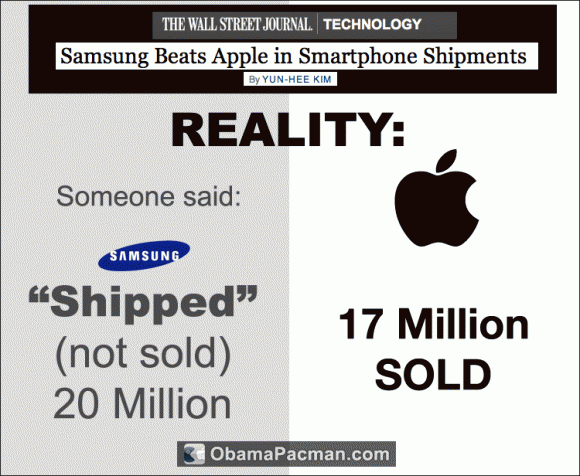 Wall Street Journal, "Samsung Beats Apple in Smartphone Shipments", written by Yun-Hee Kim with contribution by Evan Ramstad:
Samsung Electronics Co. shipped more than 20 million smartphones in the quarter ended Sept. 30, a person familiar with the situation said Thursday, beating market leader Apple Inc. as well as Nokia Corp., the world's biggest cellphone maker by volume.
Samsung Smartphone vs. iPhone Reality
Although the Wall Street Journal typically has a good record confirming unofficial sources. We have to take this report with a grain of salt.
That's the quarter in which everybody knew the new iPhone is coming out soon.
Samsung's "shipped" numbers are NOT official. Not subjected to any regulatory scrutiny.
Shipment =/= sales.
Apple reported that it sold 17.1 million iPhones in fiscal 2011 Q4, but did not reported the number of iPhone shipped. But somehow Yun-Hee Kim assumes that Samsung shipment beats Apple, without having Apple's numbers.
Is Samsung's effort at copying the iPhone taking over Apple as the top mobile device maker? Not even close. In reality, Apple sold around 31 million iOS devices last quarter (17.1M iPhone, 11.1M iPad, and estimated 3.3M iPod touch). Apple iOS still leads Android in having the largest mobile ecosystem.
So, Yun-Hee Kim (yun-hee.kim@dowjones.com), do you know how many new iPhone 4S Apple shipped to channel inventory (but not counted as sales last quarter)? The real question should be, is WSJ turning into a tabloid with link bait misleading headlines?

Related Posts