RIM Practices BlackBerry Self Termination Ahead of iPhone 4S Launch
BlackBerry suffers serious service outages around the world on October 10. UPDATE: still not resolved, 3 days later.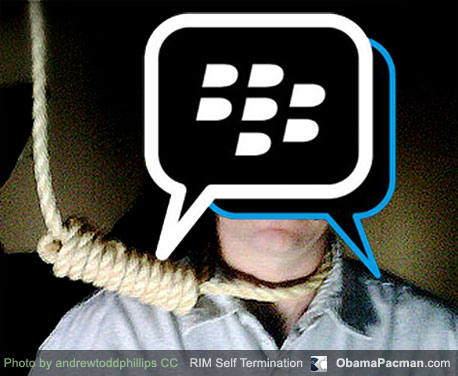 BlackBerry BBM Service Outage
BlackBerry service outage, started on October 10, affects consumers all over Europe, the Middle East and Africa, Telegraph reports.
[BlackBerry users] have been unable to browse the web or instant messages, or access other internet services such as email.
Gizmodo reports additional BlackBerry outage reports in Chile and South Africa.
T-Mobile UK describes the BlackBerry service outage: "this issue is affecting all networks across Europe, Middle East and Africa." Hours later, RIM @BlackBerryHelp confirmed that while email is restored for some users, BlackBerry internet access and messaging are still having problems.
Update: October 11, BlackBerry UK said service is back up, but it went down again. O2 UK and T-Mobile UK still are informing customers that BlackBerry services are still down.
October 12: On the third day of outage, BlackBerry outage is now worldwide, as RIM server problems cascades to US servers. October 13, On the fourth day of outage, some services are coming back online but many users are still having problems.
Apple iMessage vs. BlackBerry Messenger
The Research in Motion (RIM) one-trick-pony phones are known for its BlackBerry Messenger (BBM) service. But this week, Apple is launching, iMessage, a competing instant messaging service on Wednesday, October 12 with iOS 5.
Perhaps RIM is just practicing shutting down its servers to prepare for outflow of customers to the new iPhone? After over 12 hours of outage for some customers, the crippled BlackBerry service is still not yet resolved. Will it turn into the Microsoft Danger Sidekick implosion? We'll see.
Photo by andrewtoddphillips (modified by ObamaPacman under Creative Commons) was shot using a RIM BlackBerry 9000.


Related Posts