Professional Photo Manipulation Software for iPhone, iPad, iPod touch
Looking for non-cheesy, Lightroom-like tool for new iPhone 4S or iPad? There is an app for that.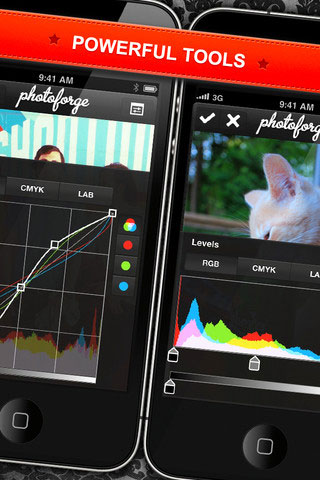 Video: Photo Post Production App for iPhone + iPad
Want something way better than Adobe Photoshop Express for iOS? There is actually a great professional photo post production universal app available. No cheesy photo effects here.
Download PhotoForge2 [App Store] for $2.99. Currently on sale for $1.99 for a limited time. Features include:
Layers, mask painting, opacity, blend
Curves & levels with RGB, CMYK, and Lab color spaces.
White balance, shadows, and highlights
History with multiple undo!
Supports popular RAW files up to 20MP
30 different customizable filters, such as Sin City, which makes whole photo black and white except for some select colors
FTP, Dropbox, Flickr, Facebook, Twitter, Tumblr sharing support
iOS device to device bluetooth transfers
MacWorld used an older version of this app to help produce the magazine cover shot using iPhone 4.
ObamaPacman: PhotoForge 2 is a fully featured app made for photographers and post production artists on the run. It is also beautifully designed and intuitive. Version 2.1.3 tested.
What needs improvement: Tutorials for new users have navigation dots, but only goes forward. It should allow swiping to go back and forth. (You can still read the full guide easily by clicking on the app name).

Related Posts