Pre-Order iPhone 4S Tonight: Pro Tips + Local Times in 7 Countries
iPhone 4S pre-orders start tonight (Friday October 7) at midnight Pacific in seven countries. Here are the local times and iPhone order tips.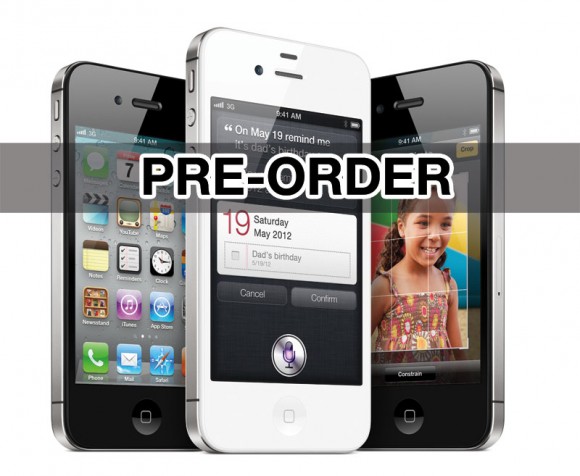 iPhone 4S Pre-Order Time
Pre-order iPhone 4S on October 7 (TONIGHT in the US) to be delivered on October 14. ObamaPacman calculated local times around the world:
US East: 3AM
US Central: 2AM
US Mountain: 1AM
US Pacific: Midnight
Australia: 6PM Victoria Melbourne, 3PM west coast
Canada: Midnight to 3AM
France: 9AM
Germany: 8AM
Japan: 4PM
UK: 8AM
iPhone 4S Ordering Pro Tips
ObamaPacman has a few iPhone ordering pro tips:
To speed up online Apple Store iPhone pre-order, open an iTunes account (if you don't have one already) and attach a credit card to it.
start checking online Apple Store and carrier websites before the scheduled time. Sometimes the pre-order systems become accessible slightly early. Launch day pre-order inventory WILL SOLD OUT due to high demand.
Apple Store will open on Friday October 14 at 8AM for those who missed pre-order. Be warned about up to 12 hour wait time in line if you do not have a reservation.
Order iPhone 4S in US: AT&T, Sprint, Verizon
Four places to pre-order iPhone 4S in the USA:
Apple Store, which offers one model for all three carriers
AT&T offers iPhone 4S 4G HSDPA speed and overall faster data access (but with 3G battery life)
Sprint offers unlimited talk text and web plan
Verizon offers more consistent data speed across areas
Sprint and Verizon CDMA networks can only handle data OR voice one at a time. There is no surfing the web / checking email when calling with standard voice plan. You can however, make VoIP calls with Skype, Fring, etc and still surf the web.
First iPhone? In the US, you'll need your existing mobile phone bill (if you got one), social security number (for contract credit check), and credit card. You might also want to check iPhone upgrade eligibility.
Factory Unlocked US Apple iPhone 4S?
It's unknown how iPhone bought on US CDMA carriers will work with GSM carriers around the world. Probably comes with a GSM SIM card for Sprint or Verizon that will only work in roaming mode when outside of US. The GSM portion is unlikely to be unlocked at the US contract price.
There is probably no unlocked iPhone 4S in US on launch date. Other countries such as UK are likley to offer unlocked iPhone 4S on launch date, and may offer pr it on e-order. We'll find out tonight.
iPhone 4S International Availability
Besides availability on 7 countries on October 14, iPhone 4S world wide availability:
22 More countries by end of October: Austria, Belgium, Czech Republic, Denmark, Estonia, Finland, Hungary, Ireland, Italy, Latvia, Liechtenstein, Lithuania, Luxembourg, Mexico, Netherlands, Norway, Singapore, Slovakia, Slovenia, Spain, Sweden and Switzerland.
In 70 countries and over 100 carriers by end of year.

Related Posts