Official Factory Unlocked Apple iPhone 4S: US November Release, $649+
Release date and US pricing of unlocked and contract-free Apple iPhone 4Ss.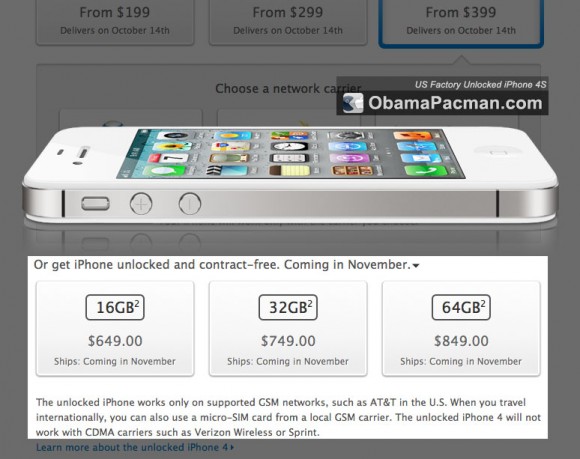 US Prices: Factory Unlocked iPhone 4S
On pre-order night, Apple Store revealed unlocked USA iPhone 4S prices:
iPhone 4S 16GB $649 USD
iPhone 4S 32GB $749 USD
iPhone 4S 64GB $849 USD
Unlocked iPhone 4S, November 2011 US Availability
Apple:
Get iPhone unlocked and contract-free. Coming in November.

The unlocked iPhone works only on supported GSM networks, such as AT&T in the U.S. When you travel internationally, you can also use a micro-SIM card from a local GSM carrier. The unlocked iPhone 4 will not work with CDMA carriers such as Verizon Wireless or Sprint.
Unlocked iPhone 4S will already be available in UK (and possibly other countries?) on October 14. But this is the first time since 2007 that Apple mentioned unlocked US iPhone on pre-order date.
ObamaPacman: the unlocked iPhone 4S is the same price as no-contract phone. So of course, buy an unlocked iPhone 4S if you are not qualified for contract price.

Related Posts