Munich 4001 Post-Its Steve Jobs Tribute [video]
Pixel mural art at Apple Store Munich, largest Steve Jobs fan tribute yet.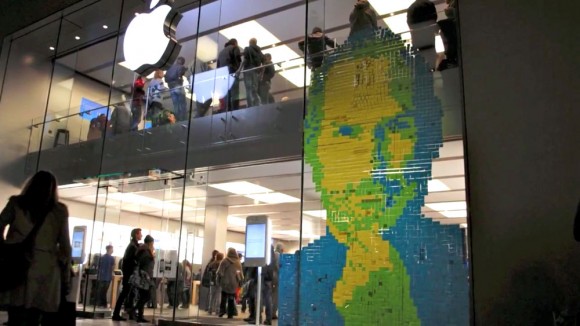 Video: Steve Jobs Post-Its Tribute
Making giant iPhone 4S display look small:
4001 post-its to honor Steve Jobs legacy with a portrait posted outside of the apple store Munich.
Andreas Kopp on youtube:
Pixels for face by Gerald Schaftner [...]

pixels created with a mac, filmed with an iPhone 4 and a timelaps app, edited with iMovie on a MacBookAir

filmed and edited by Andreas Kopp
Q: What song is this song called?
A: Don't Stop from Chilly Gonzales remixed by Polymath. You can listen to it here.
Q: How long did it take to post?
A: About 6 hours on a sunny Saturday.
ObamaPacman: looks like they got a small printed example that they stick on the Apple Store glass as reference.
Why 4001? Some speculate that it's 4000 + 1 more thing. What do you think? Does it follow Steve Jobs' motto of real artists ship?
Few more photos on the Facebook page.

Related Posts