Locked vs. Unlocked iPhone 4S, Verizon iPhone Unlock & Sprint Promises
Verizon will unlock iPhone 4S sim card slot as competitive advantage against AT&T and Sprint. Sprint giving vague promise about unlocking.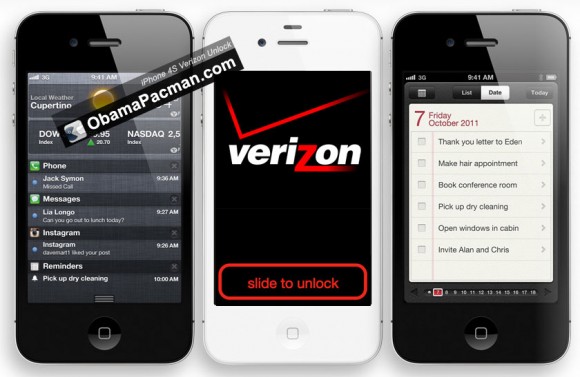 Verizon iPhone 4S Unlock
Verizon will unlock an iPhone 4S after 60 days, Slashgear reports Verizon Public Relations Spokesperson Brenda Raney:
"It is our standard unlock policy for all Global Phones. You have to have been a customer for 60 days and in good standing (meaning your bill is current) and the phone you want to unlock must be on our network at the time of the request. You call Verizon Wireless before you leave the country and we unlock the SIM. We will honor one unlock every 10 months." — Brenda Raney, Verizon Wireless Public Relations
An unlocked iPhone 4S from Verizon can be used on GSM networks in 200 countries around the world.
With an unlocked iPhone, you can travel internationally Without paying expensive roaming charges. All you need is the local carrier's pre-paid or post-paid micro-sim or carrier sim card + Microsim cutter [$5.99 on Amazon
].
Unlock is only for the GSM part. Verizon unlocked iPhone 4S cannot be used on CDMA carrier Sprint or vice versa.
Verizon ETF (early termination fee) is $350, so just getting 2 months of service + acivation fee + ETF will put the price over that of a factory unlocked iPhone 4S.
Sprint iPhone 4S Unlock?
After some confusion Sprint spokesperson Michelle Leff Mermelstein spoke to MacWorld about unlocking Sprint iPhone 4S:
The Sprint iPhone 4S will ship with its micro-SIM slot unlocked. However, Sprint now says that it will be locking that slot "shortly after launch" via an update pushed to those devices. After the slot has been locked, Sprint says that it will allow customers in good standing to unlock the SIM for international use in the future.
AT&T iPhone 4S Unlock?
There is no word on whether AT&T will offer factory iPhone unlock.
Unlock or Not?
For most people in the United States, there is little value in paying for an unlocked iPhone, unless
You travel and make phone calls internationally, and want to switch to a local SIM card (If you use a local SIM card, you'll get a local number and cheaper rate, but people can't reach you through you US phone number. If you roam internationally, it's very expensive but you get to use your number while traveling).
You plan on reselling it factory unlocked
You are using a really cheap T-Mobile US (or another local GSM carrier's) plan
Reference: Carrier Locked iPhones
What is a "locked" iPhone?
In some countries such as United States, GSM phones are sold locked to a single carrier. Why? Mobile phones are offered for sale below its actual price to attract customers to sign a contract. The customer pays the actual price of the phone over the life of the contract.
The phones are locked so the customers can't run off to use it on a cheaper carrier. (Some carriers, such as T-Mobile USA, can offer lower priced monthly plans because it didn't have to subsidize for the price of the highly demanded Apple iPhone.) In contrast, phones that are sold unlocked usually costs much more than the price of the carrier subsidized phones. US example:
iPhone 4 Unlocking
Unlocking an iPhone allows user to swap the SIM card of any carrier with the phone without signing an additional contract. Exception is in the United States where AT&T will detect smartphones and add data plans on them. (In contrast, in some European countries, carriers even offer a discounted plan for those with unlocked phones).
There's the official Apple unlock, which is done through iTunes with carrier authorization (or sold factory unlocked from Apple). This is the most expensive and most reliable unlock method. Factory unlocked iPhone 4S is coming to the US in November.
Sometimes phones can be software unlocked, but the iPhone software unlock does not work on phones with recent firmware at this time.
You can also unlock iPhone with hardware. It involves spoofing an authorized carrier with a piggy back sim card. Example is the Gevey SIM. The current Gevey SIM is said to be working with iOS 4.x modem. So to keep using iPhone 4 with iOS 5 and Gevey, wait for PwnageTool or a tool that won't update your modem. Current Gevey sim won't work on iPhone 4S5 without a product update. Cons: spoof piggyback sim unlock require multiple steps upon each phone rebooting.
Note: CDMA (such as standard Verizon and Sprint phones) cannot be unlocked due to lack of a SIM card. But the iPhone 4S is a world phone that contains both GSM and CDMA components, so carriers can offer to unlock the GSM part of the iPhone.

Related Posts