iPhone AT&T Activation: "Order Number Not Found" Error Fix
What to do if you are getting problems with AT&T Wireless web activation page.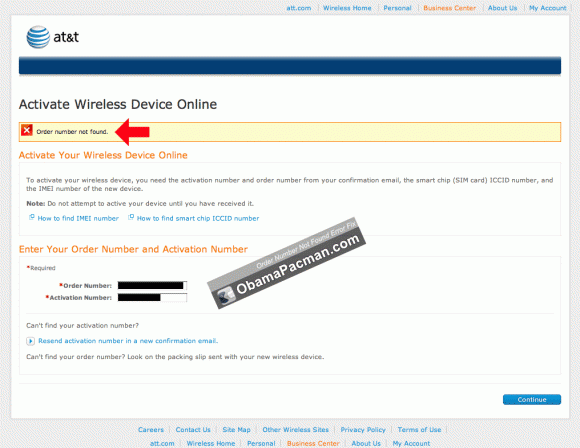 To activate iPhone or a new phone, just enter order number and activation number in the AT&T Activate Wireless Device Online page. Easy?
AT&T "No Order Number" Activation Error
Record iPhone 4S activations swamped AT&T servers again. Here's how to get your iPhone activated when AT&T web activation server is down.
Use the AT&T automated phone activation system by calling 866-895-1099. You'll need your phone number, social security, and zip code. The AT&T activation system will detect the cell phone you are calling from and ask to use it for activation. Or you can put in a different phone number. (Unlike other phones, when activating an iPhone, you do not need your IMEI or SIM card ICCID number.)
If you mistyped any information, the system will transfer you to talk to a representative. If that happens after business hours or if the wait is long, you can try calling the automated system again. Total time to activation: 90 seconds. No need to try repeatedly when you get "Order Number Not Found" error on AT&T website.
Improvement Ideas
The phone activation worked while the web activation failed. That means the activation server isn't flooded, it was just the web servers. The ObamaPacman advice to AT&T: having activation problem starts people switching to AT&T with a bad experience. To prevent that, increase your activation server capacity by 2x or 3x next year.
Somehow Verizon didn't have any activation or pre-order problems.

Related Posts