iPhone 4S Siri Turing Test, "I Love You" Demo [video]
What happens when you ask iPhone 4S Siri personal assistant "I Love You"?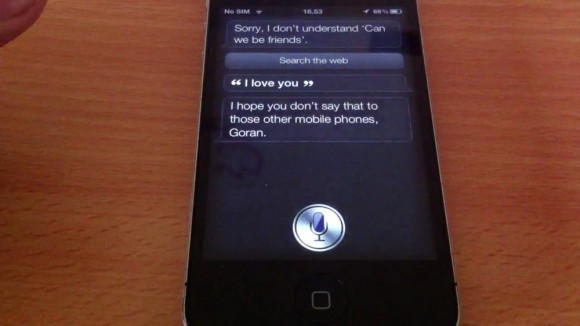 Video: iPhone 4S Siri Turing Test
Wuphle's video demo of a few funny responses of Siri on iPhone 4S, other new features, and Steinway Metronome. Is Siri smart enough to answer turing test questions (used to test intelligence level of machines)? Apple engineers included some funny easter eggs, including response to this personal question:
"I love you"

iPhone 4S: "I hope you don't say that too those other mobile phones"
The meat of this 8 minute video is the Siri section from 41 seconds (OP set video to start at this point) to 3:40. From 5:24 to 6 minute mark is a demo of Steinway Metronome [App Store]. Not a built in App, but the video creator is a musician so he thought he would demo the free app.

Related Posts