iPhone 4S Pre-Order Inventory Sold Out in US & Internationally
World wide iPhone 4S pre-order inventory stock pile sold out within 24 hours. New orders 1-2 week delivery after October 14 launch date.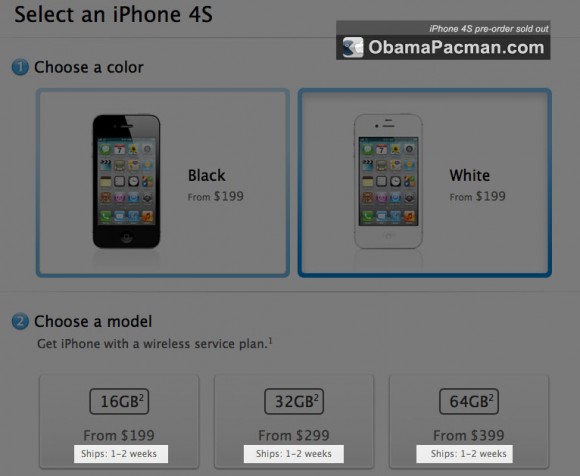 Macrumors, Friday October 7:
Following the lead of international pre-orders, new orders for the iPhone 4S made through Apple's U.S. online store are now listed with shipping estimates of 1-2 weeks, indicating that the door has closed on the opportunity for customers to pre-order the device through Apple for launch day delivery.
The high iPhone 4S demand even crashed Apple, AT&T, and Sprint servers.
Where to Buy iPhone 4S on Launch Day
If you didn't make a pre-order, but want one on iPhone 4S launch date, be ready to wait in line. Hopefully there won't be a repeat of the iPhone 4 Odyssey.
iPhone 4S will be available in the US, Australia, Canada, France, Germany, Japan and the UK on Friday, October 14. In the US: Apple, Best Buy, and corporate AT&T, Sprint, Verizon stores (not little mall kiosks) will sell iPhone 4S that day (morning?). Subscribe to ObamaPacman to keep up the latest iPhone news.

Related Posts