Tysons Corner Apple Store iPhone 4S Launch Line (Updated)
iPhone 4S line and displays at Tysons, the first ever Apple Store.
iPhone 4S Launch Line Apple Store Tysons Corner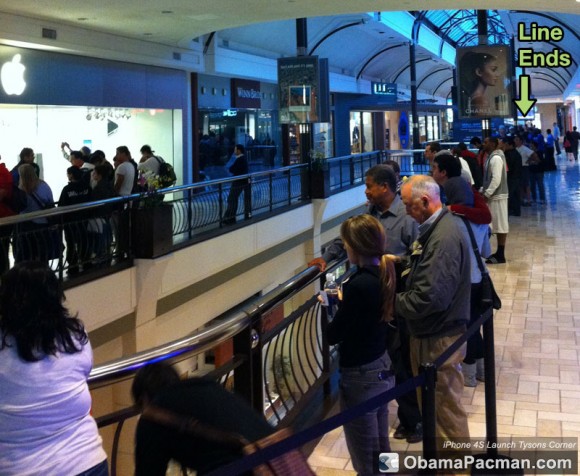 Huge inventory of iPhone 4S stacked neatly near Genius Bar in the back of Tysons Corner Apple Store.
Arrived at 4:40AM, about 30 people outside waiting for the mall doors to open.
At around 6AM, line is past Lacoste.
Update: when the store opened at 8AM, the line is about as long as the iPad 2 line (maybe not as dense). However, the Apple Store employees took care of all the customers by 8:45AM. Wow, great job Apple!
Apple already sold 1 million iPhone 4S in the first 24 hours of pre-orders, showing strong interest for the 2011 iPhone.
Shot by ObamaPacman with iPhone 4, hand held.

Related Posts