Preliminary iPhone 4S iOS 5 Jailbreak in Progress!
Unofficial iPhone dev team and Muscle Nerd are working on iPhone 4S jailbreak!
iOS 4S iOS 5 Jailbreak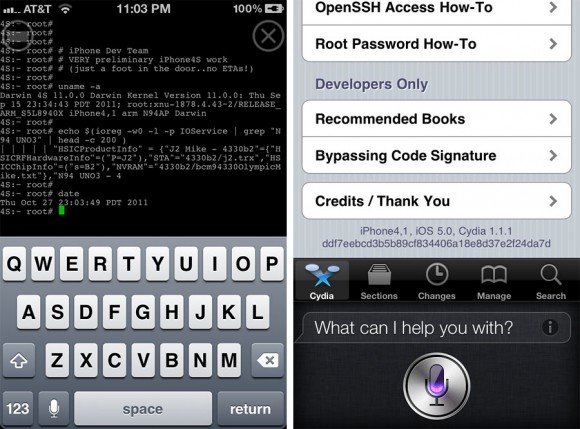 This morning, @MuscleNerd tweeted images of jailbreaked iPhone 4S (with Siri):
VERY preliminary 4S JB: http://twitpic.com/76vcp4 http://twitpic.com/76vct2 (Huge missing pieces prevent public release. LOTS of work left)
The jailbreak breakthrough seems to have happened just hours ago at 11:03PM PDT.
Currently, non iPhone 4S and non iPad 2 devices has semi untethered iOS 5 jailbreak. But when will the iPhone 4S jailbreak become available? Unfortunately, one of the images notes:
# iPhone Dev Team
# Very preliminary iPhone 4S work
# (just a foot in the door..no ETAs!)
OP: Hopefully former jailbreaker Comex isn't trying to plug the iPhone 4S jailbreak at Apple Cupertino headquarters.

Related Posts