iPhone 4S Has 4G + 8 Hour Battery Life
Phil Schiller introduces the new 2011 iPhone 4S, with 4G data speed and longer battery life.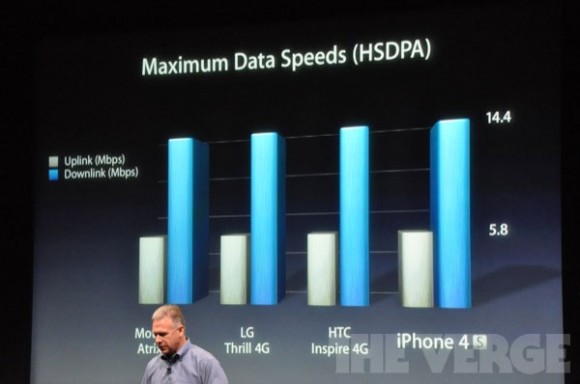 iPhone 4S specs (images via this is my next):
Retina Display
Apple A5 dual-core CPU
up to 2x faster CPU
up to 7x faster graphics
World phone, combining GSM + CDMA in one
Faster data transfer, iPhone 4S has HSDPA 14.4Mbps, twice as fast as iPhone 4.
"Where have I heard these numbers before? This is what our competitors call 4G…"
So how does the Apple iPhone 4S compare to Motorola Atrix, LG Thrill 4g, HTC Inspire 4G?
"The iPhone 4S is just as fast as all of these phones, even faster in real-world use."
iPhone 4S Battery Life
Just about all the existing 4G phones suffers from short battery life. Not the Apple smartphone. The 2011 iPhone 4S has:
3G Talk Time: 8 hours
2G Talk Time: 14 hours
3G Browsing: 6 hours
Wi-Fi Browsing: 9 hours
Video: 10 hours
Music: 40 hours
Wow.

Related Posts