iPhone 4S Breaks AT&T Sales Record
Why did AT&T activation servers went down on iPhone 4S launch day?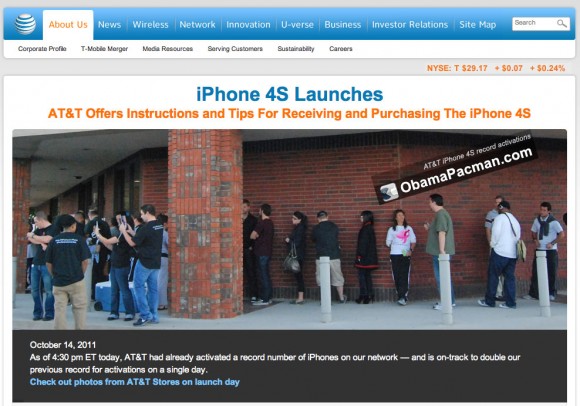 AT&T:
October 14, 2011

As of 4:30 pm ET today, AT&T had already activated a record number of iPhones on our network – and is on-track to double our previous record for activations on a single day.
Note it says record "activations". Many people are having problem with getting their phones activated so their sales might be even higher, beating every Android, Windows Mobile, BlackBerry phone in its history.
iPhone 4S also sets Sprint sales records. The AT&T record activation is impressive even because Sprint and Verizon are also selling the new 2011 5th generation iPhone.
Apple sold record number of 1 million iPhone 4S in 24 hours of pre-order, and is expected to break sales number for the iPhone launch.

Related Posts