iPhone 4S Benchmarks + Siri Settings Demo [Video]
Siri personal assistant has "raise to speak" feature + iPhone 4S browser speed benchmarks.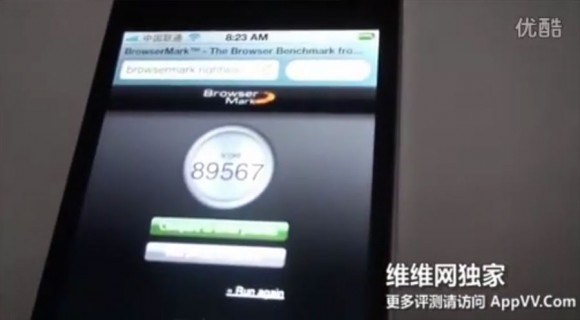 iPhone 4S Benchmark
Appvv got an iPhone 4S early, and made the first hands-on benchmark silent video (via macrumors) while using the leaked iPhone 4S on China Unicom.
Sunspider shows total score of 2222.1ms, and BrowserMark benchmark, some by OP:
iPhone 5S with iOS 5: 89567
iPhone 4 with iOS 5: 44856
iPhone 4 with iOS 4.3.5: 36485
iPhone 4 with iOS 4.1: 30586
iPad 2 with iOS 4.3.3: 69384
2011 Virgin LG Optimus V / Optimus S with Android 2.2.1: 11216
The iPhone 4S is twice as fast as iPhone 4 with iOS 5, and three times as fast as iPhone 4 with older iOS. The new 2011 iPhone is also about twice as fast as Android Galaxy S2 phone.
iPhone 4S Siri Settings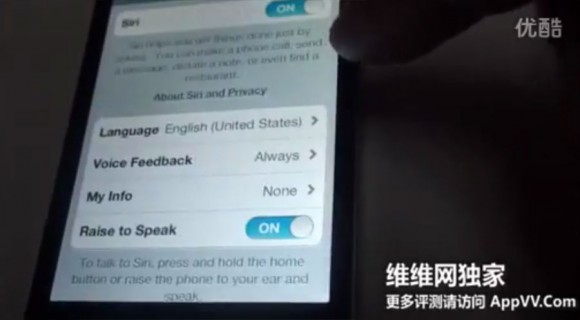 The video also shows the settings for Siri voice assistant. Apple description:
To talk to Siri, press and hold the home button or raise the phone to your ear and speak.
Siri settings: on/off, languages, voice Feedback, My Info, and Raise to Speak. Currently the Siri languages settings screen shows:
English (Australia)
English (United Kingtom)
English (United States)
French
German
The video is unusual because the iPhone 4S will be available [] in stores on October 14 and just started shipping for those with pre-orders. So, someone probably paid a bundle for this leaked iPhone 4S.

Related Posts