iPhone 4S: AT&T, Sprint, Verizon Voice & Data Plan Price Comparison (Updated)
Chart comparing prices of different iPhone 4S smartphone plans in US.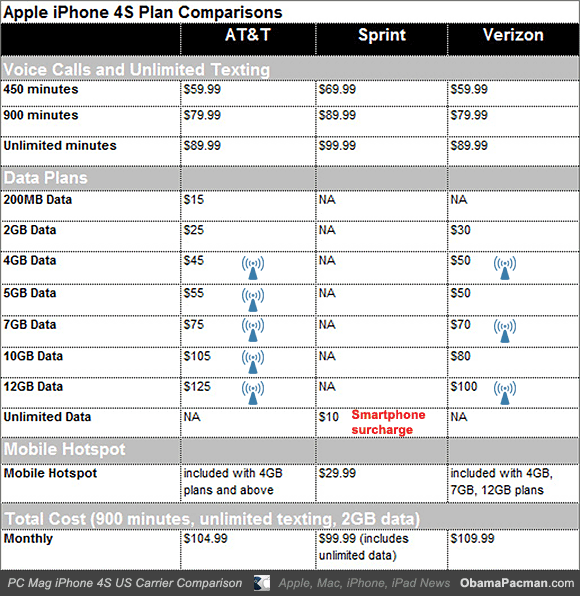 Voice + data plan prices for AT&T, Sprint, Verizon by PC Mag. Their conclusion:
If you're looking for the cheapest possible monthly deal, Sprint wins, with a total monthly cost of $99.99 for 900 minutes, unlimited texting, and unlimited data.
What's Wrong with the Chart?
The chart is made to favor Sprint by bundling things that are typically not bundled. It also used different terminology than Sprint web site. For example, Sprint's Smartphone fee is called "unlimited data" fee. Anyway:
If you want everything, then Sprint is slightly cheaper. It's the only US carrier that offers unlimited data.
If you need official tethering capability, then Sprint is most expensive.
Conclusion
Sprint is the only carrier with an unlimited data plan for anyone new to iPhone. So if you are an existing Sprint customer and happy with your coverage, you might want to get the iPhone 4S on Sprint for the unlimited data.
But AT&T and Verizon are both larger carriers with more network capacity and coverage area:
AT&T will provide iPhone 4S 4G speed with long 3G battery life, and capable of simultaneous talk and web access (such as email) at the same time.
Verizon will provide more stable voice calls, and more consistent (but slower peak than AT&T) data speed across a larger service area.
Anyway, figure out what you want, and check iPhone 4S upgrade eligibility, and see check out our iPhone pre-order pro tips with pre-order time in your country.

Related Posts