iOS5 Semi Untethered Jailbreak by Big Boss
Big Boss releases beta semi-tethered jailbreak for iOS 5.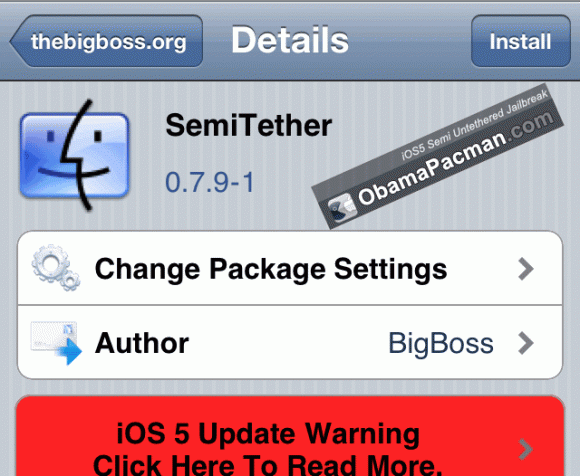 iOS 5 Tethered Jailbreak
iOS 5 jailbreak is currently tethered, that means after rebooting a "tethered jailbreak" device, you'll need to:
Connect to a computer
Run RedSn0w (currently BETA, that means it has issues)
iOS 5 Semi Untethered Jailbreak from Big Boss
But what if you don't have a computer with you? That's what the beta semitethered jailbreak software can help:
The semi-tethered jailbreak will allow you to reboot on the road, but with limited functionality. It is enough that you are no longer stranded, and you can use your phone, text, and many other features. This is just until you get home and can use redsn0w again to "just boot tethered". Once you do that, you're back to fully functional state.
There are limitations at this time of course. It is beta and only tested with iPhone 4. Other examples:
Can use phone, sms
Can use most Apple apps
No mail app
No mobile safari BUT can use any other app store browser
No Cydia, jailbreak tweaks, or JB store apps
Requires tethered jailbreak to restore full functionality
Get it by adding this in Cydia:
REPO: http://thebigboss.org/semitether
Of you are jailbreaked with iOS 5 already, then this might be for you. Keep in mind that iOS 5 jailbreak is currently not available for iPhone 4S or iPad 2 yet.
Post in the comment below if you got any questions.

Related Posts