iOS 5 Features + Built in Apps
Apple released iOS 5 with iCloud today! Here are some of the 200 new features. Get them with iPhone 4S or update your existing iDevice.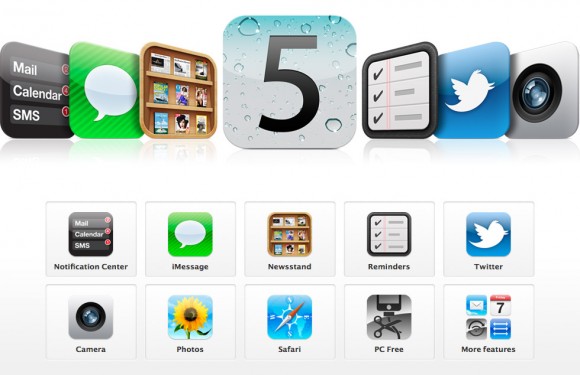 Get iTunes 10.5 and download iOS 5 for:
iPhone 3GS, iPhone 4, iPhone 4S
iPod touch 3rd gen, 4th gen
iPad, iPad 2
If you got a jailbroken device, do not update at this time. Remember to save your SHSH with firmware umbrella.
Summary of Apple iOS 5 Major Features
Major features and built in apps of the new Apple iOS:
Notification Center: all kinds of notifications in one place, including stock ticker and weather. Plus vibration pattern and tone alerts.
iMessage: unlimited SMS styled (but free) instant messaging with optional delivery receipts. Integrated with SMS (has fee) for contacting those without iMessage. Expected to be a BlackBerry killer.
iCloud integration: photo, document sync, and re-download any purchased content at any time (iTunes Match is coming later this month)
Newsstand: automatically updates magazines and newspapers overnight so you'll have it in the morning during the commute
Reminders: great to do list with iCal, Outlook, and iCloud support
Twitter: deep twitter integration
Camera: grid lines, pinch-to-zoom gestures, and single-tap focus and exposure locks. Use volume-up button to take a picture. ObamaPacman pro tip: use the virtual button on the display so you have less camera shake. Use hardware button if you cannot see the display (such as taking photo with friends)
Photos: crop, rotate, enhance, and remove red-eye in app. Sync with iCloud and your Mac, PC, or other iOS devices.
Safari: reading list (like instapaper), Reader (no ads, just text), even faster engine, tabbed browsing on iPad.
Wi-Fi Sync: automatically sync to your Mac or PC through WiFi when iOS device is connected to power source, or MANUALLY sync while on battery
PC Free: no computer needed to setup device. Syncs to iCloud, and iOS software updates are downloaded directly to device.
AirPlay Mirroring: wirelessly mirror your iOS device display on an Apple TV. Great for tech demos. (Here's an old AirPlay Mirroring demo, which used unoptimized developer beta)
There is also multitasking Gestures for iPad: swipe up to reveal the multitasking bar, pinch to return to the Home screen, and swipe left or right to switch between apps using 4 or 5 fingers.

Related Posts