iOS 5: Custom iPhone Vibration Pattern + Notification Overhaul
iOS 5 overhauls visual, vibration, and audible alerts with many customization possibilities. Dedicated alert LED in iPhone 5 is likely.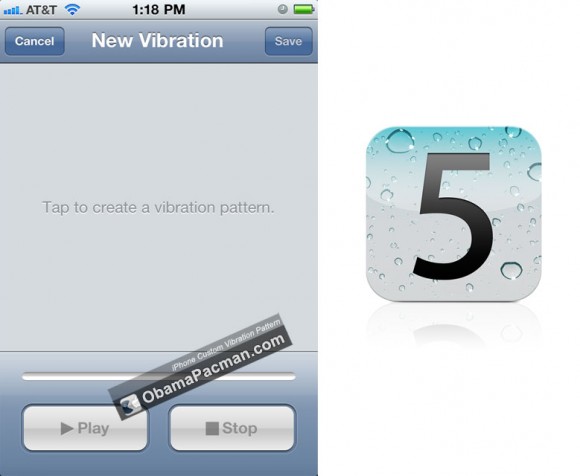 iOS 5 adds 200 new features. Adding these notification features to supplement existing custom ring tones:
Custom vibration patterns
Tones for voicemail, mail, and calendar alerts
Visual alerts:

LED flash alerts
Notification Center
More details about all these new iPhone notification options:
iPhone Custom Vibration Pattern in iOS 5
With iOS 5, you can make custom vibration alert patterns — right on an iPhone. You can assign unique vibration patterns to people in Contacts (just like custom iPhone ringtones). To make a custom vibration pattern, tap it out like a drum.
Perhaps in the future, you can buy one made by musicians in the iTunes tone store?
LED Flash Alert
Those with iPhone 4 can use the iPhone camera LED flash as an alert for incoming calls and alerts. The very bright camera flash lights up and blinks in iOS 5.
ObamaPacman: It's likely that the new iPhone 4s / iPhone 5 will have dedicated notification LED.
iTunes Tone Store
Apple Tone Store: you can currently buy custom ring tones, so perhaps Apple will offer custom alert sounds for sale. Like ring tones and vibration alerts, you should be able to make your own alert tones.
Other iOS 5 Features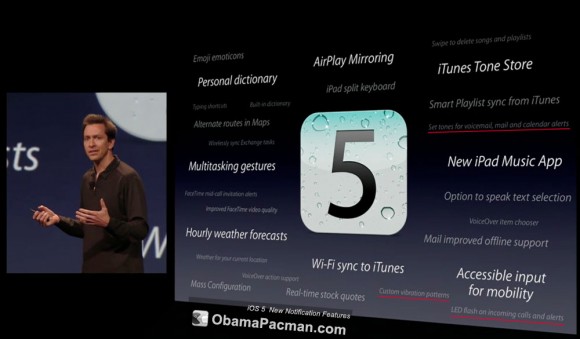 Besides all kinds of notification options, here are some of the promised new features in iOS 5 (some might be iPhone 5 only):
Alternative routes in Maps. Maybe there will be Turn-by-Turn navigation app for iPhone?
Real-time stock quotes
Hourly weather forecasts
Speech to text recognition (Nuance + Siri = Apple Assistant?)
Face detection + red eye reduction API for third party apps
Multitasking gestures: flick between apps, and Split Keyboard
AirPlay Mirroring: send live video of what's on your iPad / iDevice display remotely to a big screen TV through Apple TV.
OP: We can't wait.
iPhone 5 Apple Keynote takes place today, Tuesday October 4, at 1 PM eastern time. Apple will likely confirm and demo some of these expected features.

Related Posts