IBM Company Value Beats Microsoft
IBM more valuable than Microsoft, as of market close Friday.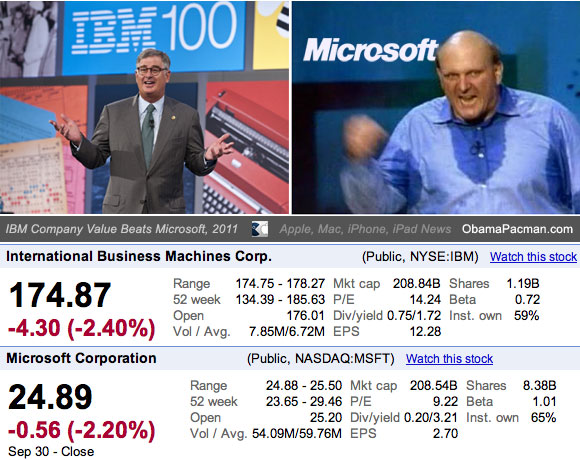 IBM vs. Microsoft Company Value
Microsoft company value surpassed IBM in 1996, and now IBM caught up after fifteen years. The former PC maker and now world's largest computer-services provider, IBM, took the place as the second most valuable technology company over the weekend.
Here's the market capitalization on September 30, 2011, in Billions of dollars:
IBM 208.84B
Microsoft 208.54B
In the last decade (Oct 5, 2011 to September 30, 2011), IBM company value climbed 90.66%, while Microsoft company value reduced (-2.72%). Microsoft stock has been stagnant due to:
Steve Ballmer leadership
Anti-trust handcuffs
Apple's fast pace of innovation
Apple vs. Microsoft Company Value
Microsoft was unable to ape and maim during the decade of Apple wins. During the same time, Apple released a new OS X about every two years, while Microsoft failed with the long delayed Vista.
2001 iPod -> 2006 Zune
2001 Apple Store -> 2009 Microsoft Store (copies Apple locations without realizing MS has different target audience)
2003 iTunes Music Store -> 2004 PlaysForSure (abandoned by Microsoft few years later)
2007 iPhone -> 2010 Microsoft Windows Phone 7
2010 iPad -> (failed HP Slate) -> Future-ware Windows 8 Tablet
Last year, Apple surpassed Microsoft to become the most valuable technology company. At market cap of over 352B, Apple is now way ahead of Microsoft.

Related Posts