HTC Adds Huge Security Holes to Android Phones
HTC adds snooping features to Android phones, which can be easily accessed by any rogue software.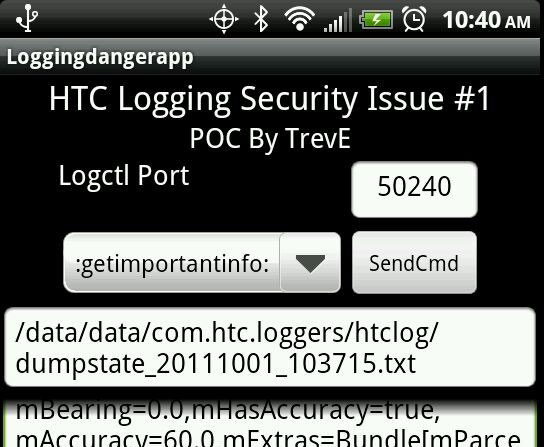 With a HTC phone, even Android users who tediously micromanage their software installs are not safe from security problems.
Android vulnerability report (discovered by Trevor Eckhart):
Any app on affected devices that requests a single [INTERNET permission] (which is normal for any app that connects to the web or shows ads) can get its hands on:

the list of user accounts, including email addresses and sync status for each
last known network and GPS locations and a limited previous history of locations
phone numbers from the phone log
SMS data, including phone numbers and encoded text (not sure yet if it's possible to decode it, but very likely)
system logs (both kernel/dmesg and app/logcat), which includes everything your running apps do and is likely to include email addresses, phone numbers, and other private info
Basically, HTC added HtcLoggers.apk to collect Android user data. The spyware can send all kinds of data to remote servers, and did not require any password to access it.
HTC also added a dormant VNC remote access server to Android phones. If active, the HTC installed VNC can be used to spy on everything the user does in real time.
Security vulnerability affects
HTC EVO 4G
HTC EVO 3D
HTC Thunderbolt
Many many more with HTC Sense Android firmware
Android, open to malware and open to Taiwanese manufacturer spying.

Related Posts