Apple Wins Injunction: Australian Court Bans Samsung Android Galaxy Tablet
Today, Apple won another injunction against the iPad knockoff Android tablet from Samsung.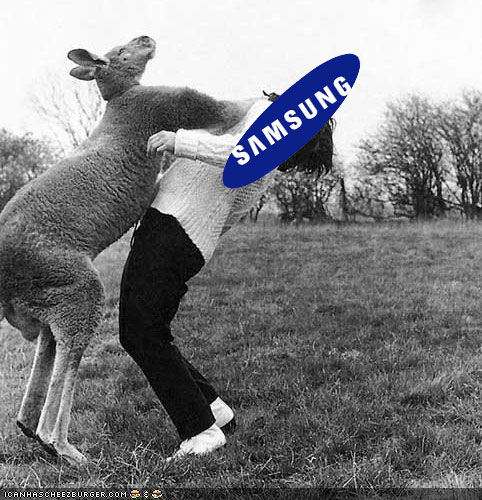 ABC News by AP reported the new October 13, 2011 Samsung tablet injunction:
Federal Court Justice Annabelle Bennett on Thursday granted a temporary injunction against sales of Samsung's Galaxy Tab 10.1 in Australia. The decision prevents Samsung Electronics Co. from selling the device in Australia in its current form until a further court order, or until a pending patent lawsuit between the warring technology giants is resolved.
What about Apple's chance against Samsung in a full trial?
In her ruling Thursday, Bennett said she was granting the temporary injunction in part because she felt Apple had a sufficient likelihood of winning the trial against Samsung.
Full trial is likely to happen next year, after the holiday season. That means Samsung won't be able to fool any people during the busy holiday seasons. At least not in Australia.
So what exactly are the telltale signs of infringement? Did Samsung infringing Apple's photo swipe feature or touchscreen patent? ITnews Australia reports that out of 13 potential patent infringements, Apple's injunction case focused on 5 patents. During the process Apple removed 1 patent, and Samsung removed features related to 2 patents. That left it with these two patents:
Heuristics patent (2007286532), which corrected a user's intended finger gestures on the touch screen, and the manufacturing techniques behind the iPad and iPad 2's touch screen (2005246219).
The court order will be published this Friday. ObamaPacman: It looks like Apple could use up to 10 patents (1 to 2 patents used to gain injunction, and 8 more that were not used yet) when the case against Samsung goes to trial in Australia.
Just last month, Germany court upheld injunction against Samsung Galaxy Tab. In addition, most consumers are already banning Samsung's knockoff tablet by not buying the devices. None of the other non-iPad tablets gained any significant market share.
Germany and Australia are some of top economies in the world. Hopefully, Samsung's Galaxy Tab might be joining Motorola Xoom, RIM Playbook, and HP TouchPad in the tablet graveyard soon.

Related Posts