Apple San Francisco Starts In-Store Pickup
You can now order in stock items + built to order items for pick up at select Apple Stores.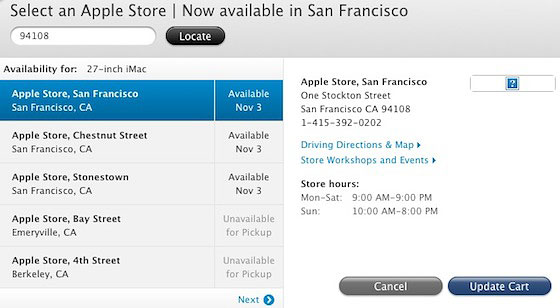 Apple Store offers free delivery. But this is useful for those who cannot receive delivery at home or work. It's also for those who ordered a gift and wanted to keep it a secret.
Just order your Apple and third party goodies from Apple Store online or with the iOS app.
In stock items are available for same day pick up. As to availability of custom built to order (BTO), engraved, or out of stock items, Macrumors describes that you'll get a conservative estimated pick up date:
In-store pickup dates may simply be conservative estimates based on the worst-case direct delivery estimate plus one day for processing at the store. Consequently, orders may arrive at stores ahead of their estimated availability date, with customers being emailed when the orders are ready for pickup.
Just started this Wednesday, store pickup is currently available at 3 stores near Apple Cupertino headquarters: San Francisco flagship, Stonestown, and Chestnut Street. It is expected to be extended to other Apple Stores in future. We believe that it's likely rolling out by the holiday shopping season.
You need proof of purchase and an ID for pickup. Supposedly you can also assign someone else to pickup your order.
PS. Another reason to go to an Apple Store is that some flagship stores (such as the San Fransisco Store on Stockton Street) have free concerts, filmmaker, and author talks, in addition to free workshops.

Related Posts