Apple Rumor Anatomy, Infographic
Rumor sources, Apple keynote, reactions, and why rumors matter.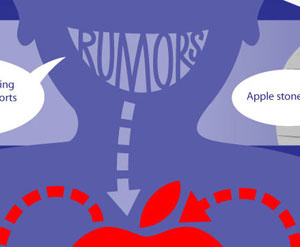 PC Mag infographic shows various stages and parts of Apple rumors (such as iPhone 5 and iPhone 4s mockups).

Example including possible rumor sources:
Source 1: supplier in Taiwan (or Korea) leaked to Asian press. Example: Samsung executive sold details about iPad parts before the 2010 launch.
Source 2: reference to new devices or features in Apple software. Example: last Friday's iTunes 10.5 beta contained mentions of iPhone 4s.
Source 3: "inside" source. Quality depends on publication. WSJ or NY TImes usually have it right.
Source 4: analyst speculation. Typically just rehashed rumors without concern for reality.
The info graphic didn't mention retailer site leaks such as that of 64GB iPhone 4s listed on Vodafone Germany. Also note when the tech press is unimpressed (such as the iPod in 2001), the product might still be a hit. As to how the folks will react, we'll find out this afternoon where ObamaPacman will report on the October 4 iPhone 5 Apple Keynote.

Related Posts