Apple 2011 Q4 Financials, iPhone, iPad, iPod, Mac Sales
Apple makes record September quarter revenue and earnings.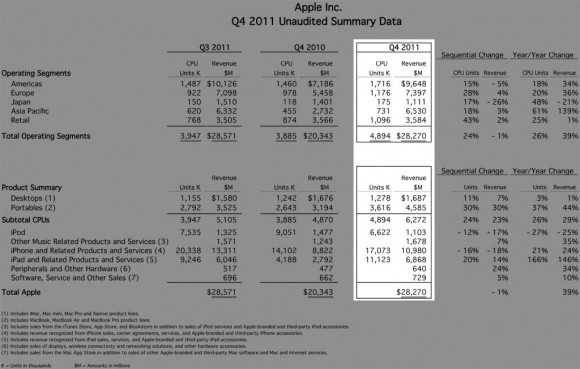 Apple 2011 Q4 Financials / Sales
Apple reported quarter sales and year over year (YOY) growth rate for fiscal 2011 fourth quarter that ended September 24, 2011:
iPhone sales: 17.07 million, 21% growth
iPad: 11.12 million, 166% growth
iPod sales: 6.62 million, 27% decline because most people are getting an iPhone instead (the Motorola Motoactv iPod copycat seems late to the party)
Mac sales: 4.89 million, 26% growth
Apple made $28.27 billion in revenue and quarterly net profit of $6.62 billion. Apple CEO Tim Cook:
"We are thrilled with the very strong finish of an outstanding fiscal 2011, growing annual revenue to $108 billion and growing earnings to $26 billion," said Tim Cook, Apple's CEO. "Customer response to iPhone 4S has been fantastic, we have strong momentum going into the holiday season, and we remain really enthusiastic about our product pipeline."
International sales now accounted for 63 percent of the quarter's revenue. Impressive, with plenty of room for growth.
One hour long Webcast of earnings report will be available for 2 weeks.

Related Posts