App Store Criticism: Apple Bad?
Same old criticism by Jeff Atwood, years late with rehashed arguments.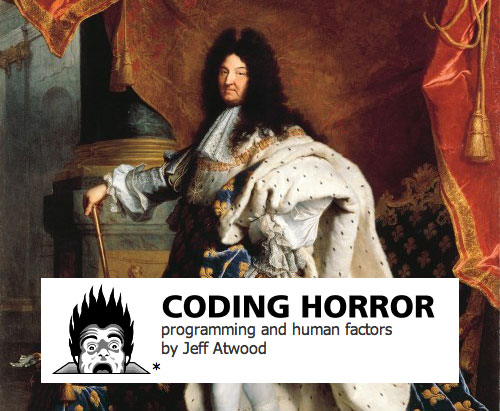 Jeff Atwood from Coding horror, who enjoys the iPhone, but as developer is "deeply ambivalent about an Apple dominated future". His thoughts on Apple App Store:
Prohibiting applications that include external mechanisms for purchases
Prohibiting applications that have sexual connotations or innuendo
Prohibiting applications with controversial satire
Prohibiting applications that can potentially be used for unauthorized downloads
The same arguments were made plenty of times before.
Steve Jobs said at D8, in summer of 2010 about Apple support for open and curated platforms:
"We have two platforms we support. One is completely open and uncontrolled and that is HTML 5. We support HTML 5. We have the best support for HTML 5 of anyone in the world. Then there's the curated App Store platform. We've got a few rules (function as advertised, can't crash, can't use undocumented APIs), but we approve 95% of apps within a week…thousands per week."
Here's ObamaPacman response:
1. Why should any company allow third party merchants to get exposure on the largest mobile store, use Apple servers and bandwidth for free? Those who want to get products in the most popular store in the world but not pay the store, are greedy weasels.
2. With iPhone and iOS devices, large adult sites quickly adopted HTML5 to distribute their content. Some sites even use iPhone Facetime to provide sexytime service. Photos and videos loads fine on iOS devices. The content is available and such companies are making money. Seriously, do you use apps on the computer to access these sites?
3. ObamaPacman does NOT agree with Apple's ban on political satire (Mosspuppet and NMATV iPad app, among others are rejected). However, the "banned" content are easily accessible from Apple's built in YouTube app or browser.
4. OMG Apple won't let people rip off the hard work of others. Guess what? Most successful stores do not allow it either. And who would want to torrent on a mobile device anyway? Seriously, just download whatever you want on your Mac or PC, and use video player apps to play AVI, MKV, etc. on iOS devices.
By the way, before Apple: $3.99 ring tones. Now we got $0.99 apps with some developers making record sales with Apple iOS. Here's Angry Birds developer on App Store vs. Soviet 'free' model.
In conclusion, for those who don't want to play by the rules, no one is stopping you from not participating in the most successful software and content store in the world. With plenty of talented developers making money from the App Store, you won't be missed.

Related Posts