Zombies Run! iPhone Exercise Game
Real life running based zombie apocalypse game + audio adventure for iPhone. Looks amazing.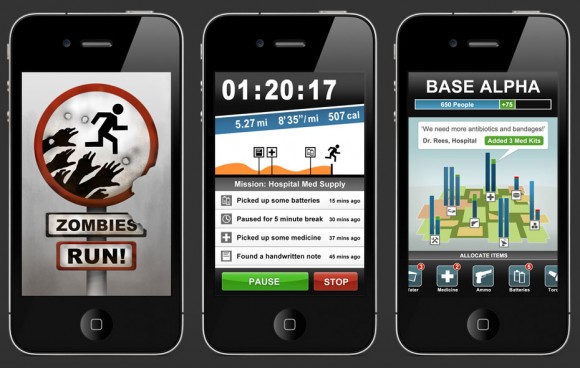 Video: iPhone Zombie Run Game
A Video Games project in London, United Kingdom by Six to Start and Naomi Alderman, on KickStarter:
Zombies, Run! is an ultra-immersive game for the iPhone, iPod Touch, and Android where you help rebuild civilisation after a zombie apocalypse. By going out and running in the real world, you can collect medicine, ammo, batteries, and spare parts that you can use to build up and expand your base – all while getting orders, clues, and story through your headphones.
How about safety? Will people be playing iPhone Orienteering in cities?
We don't make you watch your screen while you're running; we don't make you change your favorite routes; and you don't need to buy any fancy armbands or tracking devices. All you do is press a button when you start, and another button when you're done. That's it. We follow your lead.
The more you run the more items you can collect, which can grow your base:
The story will be about 25 missions long, each lasting 20-30 minutes in real time (but including your own music tracks). However, it's unlikely anyone will get through it that quickly since we'll have a lot of other things players can do!
iPhone to-do game, Epic Win, might be getting some competition.
Fund Zombies Run iPhone Game
Know someone slacking off on their jogging training? This might be the perfect app. Fund it on KickStarter by pledging $1 to $3000.
$10 or more will provide a season of content. On the other end, for $3000 you can add branded charity race zombies / bespoke custom zombie adventure mission. There are many other options in between of course. Funding closes on October 10, delivery estimated February 2012.
Will it be an empty promise? Biography of developer Six to Start describes that they've done similar projects before:
We've made worldwide treasure hunts involving hundreds of thousands of people for Muse and the BBC, we've created cutting edge web-native fiction that's won Best of Show at SXSW and is exhibited at MOMA.
What about a bicycle version? While some run from zombies or the Android robot apocalypse on foot, ObamaPacman ride Rad to the power of sick bmx or Hipster bicycle.
[KickStarter / Zombies Run Game via Geekologie]

Related Posts