Windows 8 Tablet: TV Ad
Microsoft previews the Windows 8 tablet, so hot it needs cooling fans.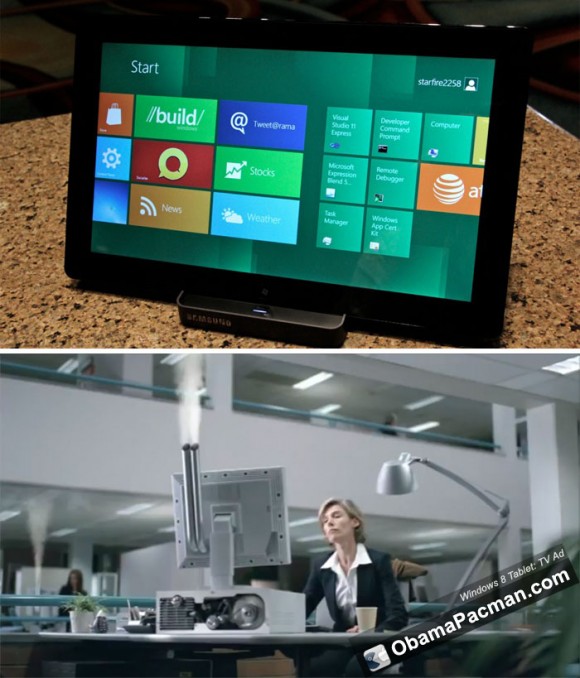 Windows 8 is said to be a one OS with both mouse and touchscreen modes (surely won't be bloated at all /sarcasm). Review of Windows 8 Tablet pc, by This is My Next:
Fan noise is very noticeable, as is the heat coming out of the top vent, and a fast boot doesn't excuse the slow wake-up times compared to ARM-based cellphones and tablets.
Video: Hot Windows 8 Tablet TV Ad
In response, Daring Fireball points to the above electric car commercial: "Renault Z.E. brand new TV advertising campaign – The electric life", is a perfect ad for the hot and noisy Windows 8 tablet.
ObamaPacman: It is basically a laptop tablet PC with no keyboard, with a GUI skin for touch interface that most Windows programs are not made for.
Translation? Windows 8 tablet is full of hot air. At least the Microsoft Kin target market might benefit from the extra hair dryer feature.
In summer of 2010, Microsoft CEO Steve Ballmer basically said Microsoft needs to copy iPad faster. 1+ year later, the Redmond company still has no pricing or release date. This prototype product is expected to ship next year or later, at least two years after the launch of the Apple iPad.

Related Posts