T-Mobile USA: No iPhone 5 This Year, Invites Apple Smartphone
T-Mobile CMO Invites Apple to release next generation iPhone on the US carrier.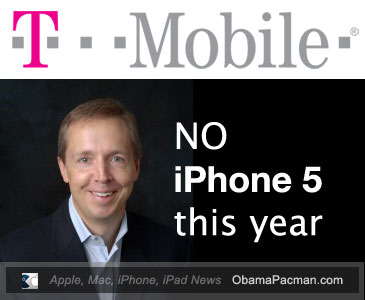 T-Mobile Chief Marketing Officer (CMO) Cole Brodman reiterated his statement that the carrier won't get the iPhone 5 this year. On the T-Mobile Blog (via 9to5):
We've heard from many customers who love their T-Mobile service, but are disappointed that we donít carry the iPhone. To these customers, first, thank you for your business. Please know that we think the iPhone is a great device and Apple knows that we'd like to add it to our line-up. Today, there are over a million T-Mobile customers using unlocked iPhones on our network. We are interested in offering all of our customers a no-compromise iPhone experience on our network.
In the mean time T-Mobile had to settle on selling Android phones, which are 90% of smartphones sold on the carrier.
Factory Unlocked iPhone for T-Mobile US
Why no T-Mobile US iPhone?
Currently, T-Mobile uses different spectrum than most other GSM carriers, so it would be inefficient for Apple to add something that won't be used on most networks around the world. AT&T and T-Mobile announced merger earlier this year, but it is facing regulatory oppositions. If the merger happens, then T-Mobile customers could get iPhone under AT&T.
So, if merger happens, investment in making an iPhone 5 to work with T-Mobile USA would be wasted. If no merger, it's not worth it to make a GSM phone T-Mobile compatible.
For those who use T-Mobile because they offered a cheaper rate for its lower coverage network, Apple already sells a factory unlocked USA iPhone, which can be used on T-Mobile US (on EDGE) and GMS carriers around the world.

Related Posts