Scout Observer: iPhone 4 Military SATCOM Satellite Communication Toolkit
Military tool that uses iPhone 4 (or iPad) to locate satellites.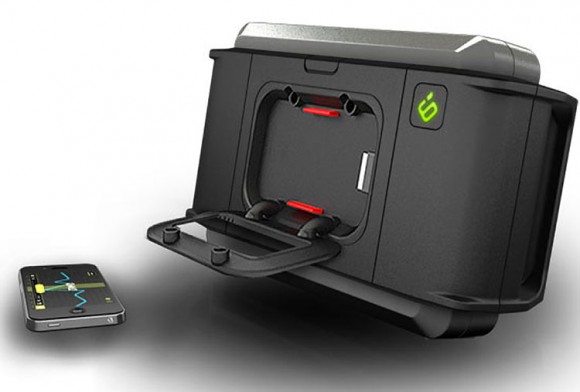 iPhone, in addition to helping snipers [$19.99 App Store], now the Apple smartphone can also help with satellite acquisition with a new adapter:
The SCOUT Surveyor and SCOUT Observer are a combination of mobile applications run on the iPhone and iPad that are connected to the SCOUT hardware. Features include a spectrum analyzer, power meter and multimeter, all in a package weighing less than 6 pounds.
The kit weights less than 4% of the heavy SATCOM equipment. Engadget:
The six-pound device replaces the standard 160-pound SATCOM terminal, making it the perfect accessory for covert operations
Other features include:
GPS receiver
WiFi transceiver, 802.11n
USB, mini-USB, & RJ45 Ethernet port
Measures 7 x 11 x 4 inches
Operates -20 to 50 degree celcius
MIL-STD-810G Standards for Shock, Vibration, Transit Drop, Altitude
ObamaPacman: Something like this is typically meant to be mounted in vehicles or aircrafts. Its light weight means there would be room for more equipments. Maybe more iPad maps for Marine and Navy pilots?
The kit is sold by Mobile development studio Cool Fire Solutions. Availability? The company is now taking pre-orders for Q4 shipment.
They also make apps for Hard Rock Café and Chambord for civies, in addition to making enterprise level apps built for military and defense use.

Related Posts