Performance Benchmarks: iPad 2 Still Rules Android, Samsung Galaxy
How does Apple iPad 2 compare to Samsung Galaxy S 2, Infuse 4G, Galaxy Tab 10.1, LG Optimus 3D, Nexus S, and iPhone 4?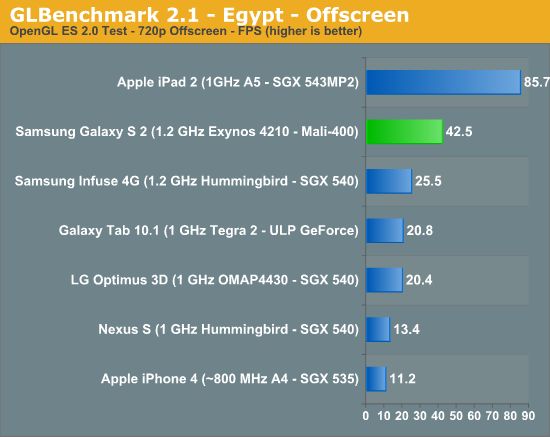 AnandTech shows that iPad 2 dominates all the "latest" Android tablet and Android phones in 3D GLBenchmark 2.1. The iPhone 4 lags behind in benchmark sore but provides smooth real world usage (unlike the Android devices).
Apple iPad 2's PowerVR SGX 543MP2 beats even Samsung's latest 4-core Mali-400 in the 4210. The GPU of Samsung Galaxy S 2 also takes shortcuts:
The downsides to the Mali-400 MP4? It doesn't have the best triangle throughput, which could be an issue in future games that may scale along that vector rather than simply increasing pixel shader complexity.
The new 2011 iPhone is expected to have the same processor and GPU (if not better) as the market leading iPad 2. Fifth generation iPod touch (if no major product transition) will also get the same performance.

Related Posts