Ode to Steve Jobs, Infographic
History of important Steve Jobs' Apple products, quotes, and trivia.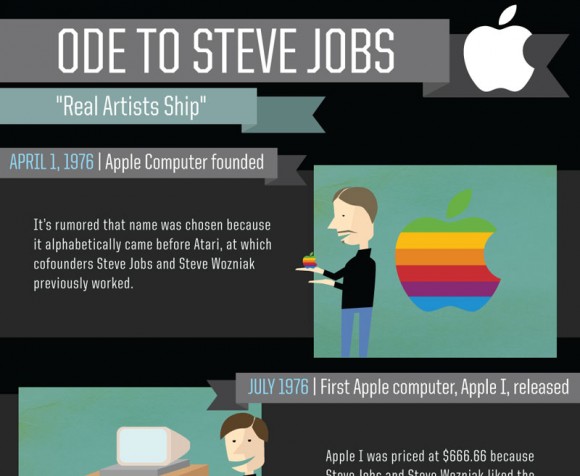 Steve Jobs infographic by Column Five media:
This timeline is an ode to the ideas and words of perhaps the greatest technological revolutionary of the past century.
Covering Steve Jobs founding of Apple Computer on April 1, 1976, to $666.66 Apple I, Macintosh, NeXT, iMac, iBook, iTunes, iPhone, MacBook Air, iPad, and the 2011 iCloud.
One example, Steve Jobs introduces iTunes on May 12, 2003:
"It will go down in history as a turning point for the music industry. This is landmark stuff. I can't overestimate it!"

ObamaPacman's adoption on the Steve Jobs iMac quote:
"Mac OS is next year's computer operating system for $29, not last decade's OS (Windows) for $319″.

Related Posts