Case-Mate Leaked iPhone 5 Case Design [Publicity Stunt?]
iPhone 5 or 4GS CGI case renderings 'leaked' by US accessory maker Case-Mate.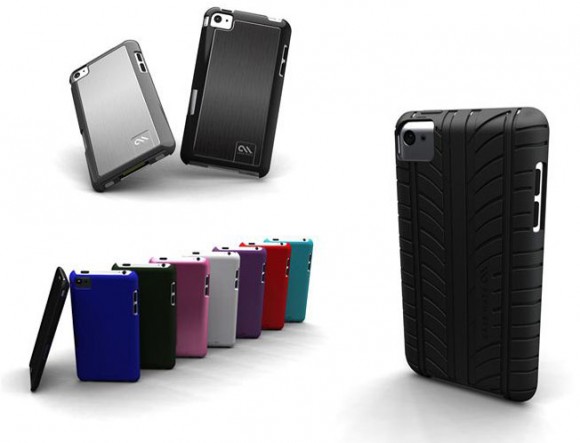 Today Case-Mate briefly "published" rendering of its iPhone 5 / 4GS case design, BGR notes, featuring:
Larger screen
Thinner iPod touch form factor
Matte aluminum back
iPad / iPod touch styled tapered back
Vibration near camera + camera flash
ObamaPacman note: the case design computer generated image (CGI) seems to be a publicity stunt based on this rumored iPhone 5 prototype case.
The page http://www.case-mate.com/iphone-5-4s-cases/ was "pulled" soon after publication. However it is now a sign up form to their mailing list, with a section on iPhone 5 rumor summary:
The rumors are new iPhone 5 will feature a completely different form factor than its predecessor. Wider and thinner, the redesigned device features an extended home button. The screen size could see an increase to 4 inches.

Also included in the rumors is that the iPhone 5 will be an A5 dual-core processor, similar to the one used in the iPad 2. It will also be equipped with an 8 mega-pixel camera, wireless charging and iOS 5, which features iCloud portable storage capabilities.

The latest report is that the iPhone 5 will be available on all major carriers across the globe, including China Mobile, which has 600 million subscribers. In addition, it will be available in black and white with 16GB and 32 GB options. Insiders expect an early October launch.
Also has a part on iPhone 4S, based on this iPhone 5 rumored specs article:
It appears that Apple will be indeed launching both an iPhone 5 and an iPhone 4S in early October. The speculation indicates that the iPhone 4S will feature the same form factor as the iPhone 4 but will be upgraded with the latest technology, including the A5 dual-core processor and 8 mega-pixel camera.
In the email collection page, the company calls it a "guessing game", confirming that it knew nothing beyond rumors. Design looks neat, but quite lame for Case-Mate to pull something like this.

Related Posts